Master Okawa giving a lecture in Toronto, Canada.

On the 6th of October, Happy Science Founder and CEO, Master Ryuho Okawa, gave a lecture in the Canadian city of Toronto titled, "The Reason We Are Here". With this commemorative event, Master Okawa has now given over 3,000 lectures.
Over 140 of Master Okawa's 3,000 lectures were given in English, and he has lectured in five continents around the world.
Approximately 700 people filled the venue and attentively listened for 75 minutes, which included a Q&A session.
Canada is a country that values diversity — more than 30% of its population of over 30,000,000 people are immigrants from a foreign country. Canada is also highly supportive of the LGBT community. With increasingly liberal ideals, Master Okawa addressed three issues connected with liberalism: global warming, Canada's relationship with China and LGBT issues.
Impression of Canada and Prime Minister Trudeau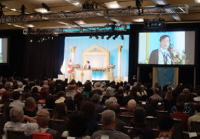 Approximately 700 participants attentively listened to Master's lecture.
Towards the beginning of the lecture, Master Okawa said that Canadians are "very kind, gentle and tolerant."
Canada is currently in the midst of election period, and their federal election is scheduled to take place on Oct. 21. Master Okawa pointed out that both Justin Trudeau, Canadian Prime Minister and Liberal Party leader, and Andrew Scheer, leader of the main opposition Conservative Party, are good leaders for Canada.
Master Okawa then criticized Mr. Trudeau as someone who is "a good man but can't decide pivotal things". He also explained that Mr. Scheer "wants to bear some responsibilities of Canada."
In addition, Master Okawa mentioned that, like Japan, Canada has a weakness in that it easily follows strong countries.
Is Thunberg's "Science" Regarding Global Warming Correct?
In late September, Sweden's 16-year-old environmentalist Greta Thunberg gave a speech at the UN Climate Summit and attracted the world's attention. P.M. Trudeau, who is also passionate about solving environmental issues, met with Thunberg.
Thunberg repeatedly told people to "listen to the scientists." However, Master Okawa spoke about this and pointed out that many past civilizations have actually flourished because Earth became warmer.
"She usually says that the emission of CO2 is bad and harmful to humankind. But in the standpoint of science, it's not true. Carbon dioxide allows plants of the Earth to absorb a lot of energy from the air and spread a lot of green in this world. It feeds animals in this world and after that, a lot of people can live on this Earth."
Master Okawa warned that behind claims of global warming there lies communist ideals that reject prosperity.
How to Face China's Totalitarian State
Later, Master Okawa spoke about the Hong Kong protests and China's totalitarian regime. Canada is reluctant to make a decision to face China, as they are bound by two opposing elements: "values of freedom and democracy" and "economic profits from China."
While Master Okawa said that he loves Chinese people and wants them to be happier, he stated the following: "I want to ask, 'Why don't [Chinese people] experience democracy, freedom of speech and free voting?'… These will make them greater than they are now."
There are three characteristics of a totalitarian system, according to Master Okawa — "mass murder or violence," "secret police" and "refugee camps." He then said that there are two indicators of a totalitarian nation: "One is, 'Is there any belief in God?' Another one is, 'Are there any fundamental rights?'"
Correct Mindset Towards LGBT Issues
Finally, Master Okawa stated that he visited the Gay Village of Toronto, one of the most advanced LGBT areas. He informed the audience about a religious truth that is missing from Christianity.
"At first, God created both male and female, but our teachings show that the human soul can be born as a male or a female… We [were born] to experience a new modern society and acquire new character… The most important thing is to learn how to live in this world in your materialistic body."
The essence of human beings resides in souls created by God, not the physical body — this is a spiritual truth. Each person is born onto this Earth after choosing their gender to develop their souls, experience many things and return to the spiritual world. LGBT rights should be recognized to a certain extent, but a complete acceptance of it will lead to a weaker nation and a corrupted society.
There are mounting issues that liberalized Canada must resolve, such as environmental issues and its relationship with China. This historical lecture moved Canadians to reconsider the responsibilities of a nation and how individuals should live.
Master Okawa also covered the following topics in the lecture and Q&A:
Negative effects of being liberal
Responsibilities toward the world that Canada must bear
What Master Okawa stated in his 2011 Hong Kong lecture
Issues with the modern Christian society
Existence of the god that guides Canada
How to deal with drug addicts
Master Okawa's prophecy of the "Golden Age" and what it really means