The Liberty spoke with Nay Tin Myint, a democracy activist who was one of the student leaders during Myanmar's 1988 uprising and spent 16 years as a political prisoner. How does he view the current situation in Myanmar?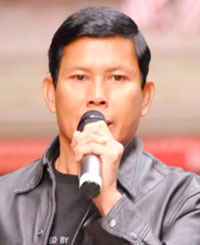 Nay Tin Myint played a central role in Myanmar's democracy movement. He was imprisoned in 1989 for committing political crimes, and he fled to the U.S. in 2008. He chairs an American supporting organization of the National League for Democracy (NLD).
――You played a central role in Myanmar's democracy movement.
Mr. Nay: It was over 30 years ago that I got involved with the democracy movement. In 1988, when the democracy movement was on the rise under the oppression of the dictatorship, I was a student at the University of Yangon and served as the youth leader of the National League for Democracy (NLD), which Ms. Aung San Suu Kyi led at the time. While being a youth leader of the NLD, as a secretary of the Tri Color Student Front, which had to take responsibility for Aung San Suu Kyi security, I also served Ms. Aung San Suu Kyi for about 2 years. But in the following year, in July of 1989, the military junta at the time put Ms. Aung San Suu Kyi under house arrest. I was put in prison as a political prisoner. I was sentenced to life imprisonment and spent nearly 16 years transferring prisons.
In prison, I was both physically and mentally tortured day after day, but I made a firm vow that I would not give in to any torture. I had a strong belief in bringing democracy to Burma and realizing human rights and freedom.
All Hatred Disappeared Through Meditation in Prison
Mr. Nay: My faith in Buddhism also made me stronger.
In prison, I was not allowed to talk to anyone, read any books, or eat and drink properly. Blood gushed from my mouth and ears due to physical torture, and for over two years in prison, iron chains were between my legs. This paralyzed my right leg and I could not move them. Of course, I didn't receive any treatment. My spirit was almost broken many times, but I vowed to come back alive.
I stopped thinking about my past or the future, and instead, I focused on how to live in the present. After all, I would just die in prison if I didn't live that day. I meditated every day and night to control my mind. I couldn't focus at first, but after about one month, I felt peace at heart. Before I knew it, all hatred disappeared from my mind. The only thought remaining was my desire to somehow change the current political system. My right foot still hurts to this day, but I don't feel hatred for anyone.
As soon as I was released in 2005, I got involved with the democracy movement. In August of 2007, a massive anti-government protest broke out (Saffron Revolution). In response to this protest, the government imposed a violent crackdown with gunshots, and as a participant, I was arrested again. But I was fortunately released, and I fled to the U.S. in exile in 2008. I am now based in New York, continuing to support Burma's democratization.
Over 20 Years of the CCP Providing Weapons to Military Junta
――It's been pointed out that the Chinese Communist Party (CCP) was involved with the military coup in Myanmar last February.
Mr. Nay: The CCP has been supporting Myanmar's military junta for over 20 years now. Not just food, but also the provision of weapons. America should already know this fact.
We hope that China stops supporting the military junta immediately.
Murder After Murder, Democracy Can't Be Established
Mr. Nay: For many years, Myanmar hasn't had freedom of speech, freedom to publish nor freedom of religion. Monks are still imprisoned, with many dying in prison.
The other day, we were notified that a village in the west side of Myanmar has been burned down by the military junta. Over 20 villagers died. It is too inhumane of an atrocity.
We've obtained numerous documentation that show China's provision of weapons and are planning on submitting them to the International Crime Court (ICC).
The U.N. Security Council condemns Myanmar's military government and demands the release of its citizens, but in the end, it is only in writing with no ability for execution.
What Myanmar needs is a democratic system change. Even if all military personnel were killed, we can't achieve a democratic system change. What Myanmar needs to establish true democracy is international support, along with educating the people in Myanmar. I would like the people of Japan to pay attention to the current situation in Myanmar, stop any kind of economic and political relations with the military junta, and support our democracy movement there.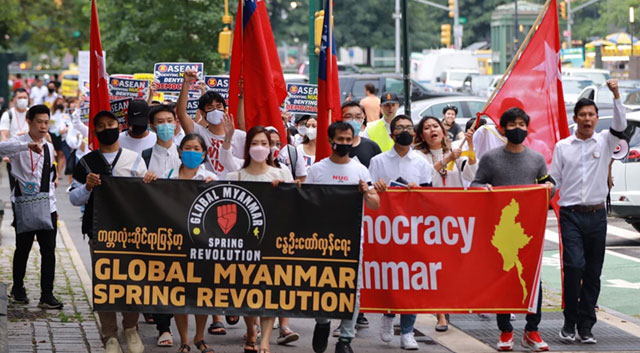 Protest in New York City last July. Mr. Nay is pictured on the right.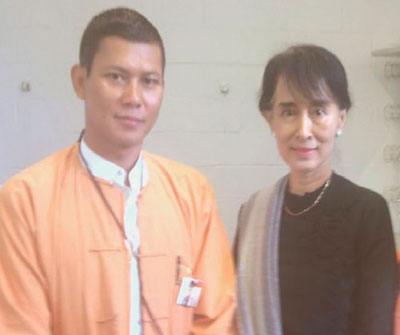 Ms. Aung San Suu Kyi visited the U.S. in 2012 to receive the U.S. Congressional Gold Medal after being released from house arrest. Mr. Nay is pictured on the left.