Uganda's Covid-19 situation, once the worst in Africa, has made a dramatic recovery. In our three-part series, we focus on the power of faith that helped people overcome the virus.
Neither lockdowns nor vaccines are absolute remedies for Covid-19. Countries are pushing for various countermeasures against Covid-19, but perhaps if they stated their honest opinions, it would come down to this – they can only wait for the virus to die out.
The Republic of Uganda was an exception, with rapid reductions in the number of coronavirus infections that opposed global trends. As of Dec. 8, 2020, Uganda surpassed 1,800 new infections per day – showing an increasing trend of infections as the third highest out of 52 African countries.
Matters in Uganda were so serious that the Centers for Disease Control and Prevention (CDC) issued a Level 4 Travel Health Notice for Uganda due to Covid-19, the highest out of four levels.
On Dec. 9, however, one day after the peak number of infections, the number of new infections suddenly dropped to 671. The CDC lowered their risk assessment to a Level 1 Travel Health Notice in mid-April, and the number of new infections has been as low as one digit per day from then on. Miracles unimaginable are happening in Uganda.
Broadcasting and Prayer Cure Covid-19
Various analyses have been conducted, such as attributing the reduction in cases to work from home, but we have yet to reach a conclusion for the absolute remedy to Covid-19. In our three-part series, we'd like to take a different approach as to what really happened in Uganda.
Jane Doe, an anonymous Ugandan resident, underwent a rapid recovery from being infected by Covid-19. It all started last December when she began to feel that something was off with her body after inviting a family relative from Nairobi, Kenya. She went to the hospital and took a polymerase chain reaction (PCR) test, only to find out she was positive — she was forced to stay at the hospital for 5 days.
Once she switched to home care, she came across a television program in Uganda that introduced Happy Science. The program streamed excerpts of Master Ryuho Okawa's lecture, "With Savior," from Dec. 8, 2020, along with a song titled "THE THUNDER – a composition for repelling the coronavirus," and it also aired a Happy Science ritual prayer ceremony, "Prayer for Defeating the Infection of Novel Coronavirus Originated in China." It is estimated that the TV program had over 300,000 viewers.
Mrs. Doe's body was so painful that she couldn't lift anything, but she watched the TV program to the end and prayed to God.
"May my family not get infected."
From that day on, her symptoms improved. She had a second PCR test, this time testing negative. Even now, three months post-test, none of her family members has been infected and she has made a full recovery with no recurrence. She strongly believes that watching the TV program of Happy Science helped her recover from Covid-19.
In Master Okawa's book titled "The Laws of Secret," he describes a virus infection as one type of possession — the virus will leave the body if the mind is in harmony and your body emits a light halo. In addition to the case of Mrs. Doe, we have reports of a great many cases in which Covid-19 was cured by the above-mentioned song and ritual prayer in Japan and around the world (see Parts 2 and 3).
The light of Buddha enclosed in Happy Science prayers and songs helps prevent Covid-19 infections and cures the virus through faith.
In Uganda, this same TV program was broadcast a total of four times, twice in December 2020 and twice in January of this year. The number of Covid-19 infections has dramatically declined (see figure below).
Happy Science Master Ryuho Okawa's lecture, "With Savior", was aired on a Ugandan television station.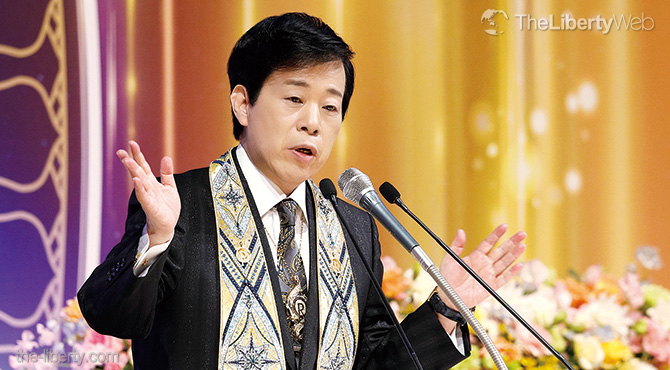 Ugandan locals watching the TV broadcast. After the broadcast, the local Happy Science branch received more than 450 inquiries.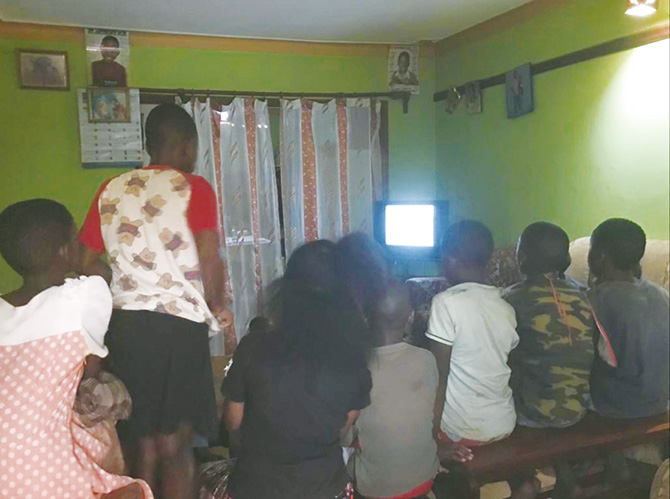 Faith Even Revives the Dead
Uganda has also reported one of the greatest miracles, a modern "Death and Resurrection of Lazarus" in which a medically deceased child was resurrected. A few years ago, two-year-old Robina died of a high fever. Her father repeatedly read aloud the sutra of Happy Science, "The True Worlds Spoken by Buddha." 45 minutes later, Robina began to breathe again, coming back to life, and the temperature of her cold body started rising. She now goes to school normally and lives without any after-effects. Her story was featured in the documentary film, "Living in the Age of Miracles," from August 2020.
Faith improves our immunity and performs miracles unthinkable under the common sense of modern medicine. In Uganda, the virtue of religious beliefs played a major role in the reduction of Covid-19 infections.