On Oct. 4, to commemorate the Oct. 6 founding of Happy of Science, Happy Science CEO and founder Master Ryuho Okawa conducted a lecture titled "The Proper Path of Devil-Quelling" at the Holy Land El Cantare Seitankan – a Happy Science facility established in Tokushima Prefecture, Japan, where Master Okawa has descended. The lecture was broadcast nationwide through the organization's transit network.
Need Not Worry About Trump's Covid-19 Infection
Covid-19 has been spreading around the world, increasing the number of new infections. Among those newly infected is U.S. President Trump; not only could it affect the presidential election, there are concerns that his infection will delay national affairs itself.
"I believe that President Trump will quickly recover and make an appearance in a healthy condition, and I'm praying for that to happen,"
Master Okawa said. In March, U.K. Prime Minister Johnson's soul came forth to Master Okawa after P.M. Johnson was infected with Covid-19. As soon as Master Okawa poured light into his soul, P.M. Johnson recovered instantaneously. Master Okawa pointed out that President Trump's condition isn't serious because the President's guardian spirit hasn't come to Master Okawa for help.
Later on, Master Okawa spoke on the correlation between religious enlightenment and healing illnesses — he touched on the mechanism of curing Covid-19 and the flu.
Attaining Enlightenment Through Conquering Devils Actually Happened
"Devil-Quelling," which became the title of this lecture, is historically famous for "attaining enlightenment through conquering devils." Buddha once sat under the Bodhi Tree and attained enlightenment despite receiving various temptations and attacks from demons. A similar case of spiritual obstruction also confronted Jesus Christ.
Master Okawa pointed out that defeating demons leads to enlightenment; in other words, attaining enlightenment and gaining spiritual power, as well as the power to disperse demons, happen simultaneously.
"Today, many Buddhist scholars explain that [attaining enlightenment through conquering devils] is most likely dealing with inner conflicts and worries," Master Okawa said. "That's far from the truth, and Happy Science has published many books on this topic. Battling the devil is very much real, and it's not simply inner conflict. It holds reality, and it actually happened."

The topic of attaining enlightenment through conquering devils is a focus of "TWICEBORN," a film that will be released in theaters starting Oct. 16. "TWICEBORN" has been receiving high reviews from around the world, including winning "Best Foreign Language Feature Film" at the Madrid International Film Festival.
Is the World Better and Beautiful Because You're Born?
As the lecture approached the finale, Master Okawa spoke on a way that life differentiates heaven from hell. He told the audience to live a selfless and altruistic life instead of blaming the environment, and said the following:
"Is the world beautiful because you're born? Is the world better? Ask yourselves this. If you can say yes, it means that your life has been successful. Please live with this mindset."

It is religion that spreads this truth. Master Okawa emphasized that life will change greatly depending on whether or not people accept this reality and stressed the importance of reaching for spiritual heights to choose a life of spiritual awakening.
The lecture also touched on the following points:
What's the relationship between religious enlightenment and illnesses?
Master Okawa facing attaining enlightenment through conquering devils
The meaning behind continuing spiritual readings
Earth's vibration and dimensional structure that science can't explain
The essence of living a life premised on the spiritual world
Humans are mediocre, but also not mediocre
Enlightenment and democracy
Related HP
"TWICEBORN" movie
https://twicebornmovie.com/
Related book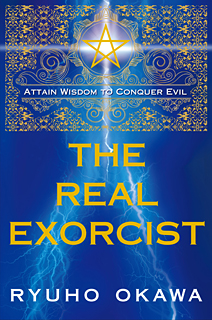 The Real Exorcist: Attain Wisdom to Conquer Evil
IRH Press
Amazon