(Photo:Olya Gan / Shutterstock.com)

U.S. President Donald Trump was recently discharged from hospital and returned to the White House after being infected with COVID-19.
Soon after, Mr. Trump uploaded a video to Twitter saying, "Don't let [the coronavirus] dominate you. Don't be afraid of it." Many White House officials, including the President's close advisers, have tested positive for COVID-19, and questions are being raised about how Mr. Trump contracted COVID-19.
COVID-19 'Suicide Bomb' Set Up in the White House
Meanwhile, the guardian spirit of State Chairman Xi Jinping came to Happy Science CEO Master Ryuho Okawa and gave an important testimony regarding Mr. Trump's COVID-19 infection. This spiritual reading will be available in Happy Science local branches and temples from Oct. 11.
Mr. Xi's guardian spirit stated that Mr. Trump's COVID-19 infection "was an attempted murder [set up by China]." According to Mr. Xi, "Trump himself is guarded, but his aides are not" — they targeted the President's inner circle to set up a "suicide bomb" in order to bring an infected person close to the President.
Additionally, Mr. Xi's guardian spirit revealed that "China is also making insect-type drones," so he is considering using them as his next move. Mr. Xi's guardian spirit also boasted that mosquito- and fly-type drones can kill the President in one shot. He revealed China's intention to make additional attacks.
Questions Also Arise Within the U.S.
These questions are being raised within the U.S. as well. Ms. Sally Zelikovsky, a lawyer, published an article on the U.S. conservative news site American Thinker, in which she pointed out, "It is odd that in a town as small as Washington, D.C., only Republicans took the hit."
Ms. Zelikovsky wrote, "With a little contact tracing and sleuthing, I wouldn't be surprised if we find out that this was an arrow in someone's quiver…" She questioned the oddness of a cluster of COVID-19 infections affecting key Republicans at Amy Coney Barrett's nomination ceremony from several angles.
Biological Weapon "to Sweep Anti-Chinese Forces"
Happy Science has conducted various spiritual readings which have demonstrated China's intent to use the coronavirus as a biological weapon.
In August, Master Ryuho Okawa recorded a spiritual reading of space being R.A. Goal, who has been long overseeing and protecting Earth. According to R.A. Goal, China had the intent of attacking the U.S. by using the coronavirus and pushing the U.S. into an economic depression. "This was set up to defeat Trump [in the presidential election]," R.A. Goal said.
This spiritual reading with Mr. Xi's guardian spirit gave us a glimpse of Mr. Xi's impatience and took us behind the scenes of the U.S.-China conflict and the upcoming presidential election.
The spiritual reading also covered the following points:
How does Mr. Xi's guardian spirit view Dongting Lake Niangniang, China's goddess of traditional folk religion?
What kind of strategies does Mr. Xi have in mind for Japan's P.M. Suga?
What will happen to Japan if they re-invite Chinese tourists?
What is Mr. Xi's relationship with the aliens who support China?
What will happen if Mr. Biden wins the presidential election?
What is Mr. Xi's relationship with NHK, Japan's public media organization?
How does Mr. Xi plan on using North Korea?
What is the unexpected purpose behind spreading materialism and atheism?

This spiritual reading will be available from Oct. 11 (Sun.) in local branches, temples and main temples of Happy Science around the world.
This article offers only a partial introduction of Master Okawa's lecture. Please visit a Happy Science facility to get details.
【Find Your Nearest Happy Science】
http://findus.happy-science.org/
【Related Books】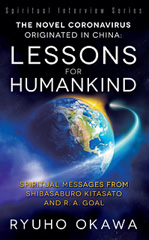 The Novel Coronavirus Originated in China
Lessons for Humankind: Spiritual Messages from Shibasaburo Kitasato and R.A. Goal
Amazon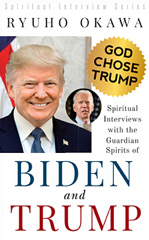 Spiritual Interviews with the Guardian Spirits of Biden and Trump
Amazon