Rokas Tenys / Shutterstock.com

The world is facing turmoil over Ukraine. On February 22th, President Biden said Russia has begun an "invasion" of Ukraine after Russia recognized the independence of the part of the regions in eastern Ukraine. Russian troops attacked Ukrainian military facilities on February 24th, and the battle is intensifying.
Various countries have announced sanctions on Russia, but it is also difficult to determine the extent to which Russia's President Vladimir Putin will continue attacking.
Amid the turmoil, Happy Science CEO Master Ryuho Okawa recorded a spiritual message of Mr. Putin's guardian spirit on February 24th before reports came out that Russian troops attacked Ukrainian military facilities. The spiritual message was made available in Happy Science temples and Shojas around the world.
Since 2012, Master Okawa has recorded numerous spiritual messages of Mr. Putin's guardian spirit.
"There's a fairly high degree of synchronization between [Mr. Putin's] own thoughts and his guardian spirit's thoughts. There are people for whom these thoughts appear to be completely opposites, but 80% of what the guardian spirit says matches what [Mr. Putin] is thinking. You can think of [the guardian spirit's words and the person's thoughts] as fairly identical," Master Okawa said in his opening commentary.
Regarding the purpose of the spiritual message, Master Okawa said, it is to "inquire in advance the kind of thoughts he has and use it as a [reference] material for future judgements and predictions." Furthermore, he commented, "I believe [the spiritual message] will do an adequate job in terms of deciphering a supreme leader's way of thinking."
Ukraine Has Significant Implications for Russian Security
Russia has been opposing Ukraine's membership with NATO, seeking a legal guarantee that Ukraine be denied membership, but they have yet to reach an agreement. The guardian spirit of Mr. Putin spoke passionately about the significance of Ukraine for Russia that Western countries fail to understand.
Russia fears that Ukraine will be taken into NATO, a European military alliance, or the European Union, according to Mr. Putin's spirit.
"I can't just hand over Ukraine to the E.U. They'll have us by the throat if American-made nuclear weapons and missiles are placed there, and Moscow will be destroyed in 10 minutes or so," he said. He further declared his determination to put an end to the problem. "There's a chance that Russia will end when it is led by a weaker president than myself. So, I feel adamant that I must take responsibility while I'm still here."
Mr. Putin's guardian spirit talked about the significance of Ukraine to Russia. He said that in a historical sense, "it's highly likely that we would've lost both the Napoleonic Wars and the Hitler war without Ukraine." He continued. "It's a focal point for our defense against Europe. This is something we can't give up no matter what, so it's no use."
He mentioned that Mr. Biden doesn't understand these points for the significance of Ukraine.
"I'd like [Mr. Biden] to learn what will happen to America if Latin America comes under the wing of Russia," the spirit said, citing that Russia is accelerating its cooperation with Latin American countries such as Venezuela, Cuba and Nicaragua.
As for the future outlook, he explained that Russia has no intention of a full-scale invasion.
"Give us the eastern and southern regions of Ukraine. Then, we can come to an end this time around," he said. "It's important to make sure it won't spark a war."
It Doesn't Matter if the EU Broke Up
Furthermore, the guardian spirit of Mr. Putin declared that the NATO, created to counter Russia, and the E.U. are "not needed."
He pointed out that the E.U. "was something created to prepare for Japan, which had the momentum to overtake America." He said that currently, the E.U. is becoming a weak coalition of minor powers, excluding Germany and France.
"This 'ghost' that people are not sure of, known as the E.U., is rising, and people [minor powers] who are trying to suck its juice are sticking onto [the E.U.] like leeches, sucking blood. A lot of that has to be cut down," he said, pointing out that breaking up the E.U. is not a problem.
He further noted that the Ukrainian people who want to join the E.U. are "deceived." According to the spirit, the E.U. became financially very poor and unsuccessful since when Islamic refugees poured in.
"Heck, E.U. countries won't help," he said. "[Ukrainians] will become like Islamic refugees, at any rate, I'm sure. If they run off [to the E.U.], they would be discriminated in the end and not receive any work, they'll just become poor."
He insisted that it would be better for the Ukrainian people to join Russia.
Should the U.S. Continue to Be a Hegemon?
The guardian spirit of Mr. Putin also rebutted the U.S. as today's single hegemonic power.
"Biden is arguing for the opposing diagram of 'democracy versus tyranny,' but why should we listen to Biden? Why should the world move as America says?" he said. "Leave Ukraine to Russia. We'll manage them. America should not butt in. It's uncalled for."
Furthermore, he said, "[Mr. Biden] is saying it's not permissible to simply redraw the border of a post-war country. America has been at war for many things, but what are those?" The spirit pointed out the issues surrounding Afghanistan and the occupation of Iraq, disorders after the Vietnam War and the Korean War, and said, "As I thought, we can't let this [American] hegemony have its own way." He urged the U.S. to reflect on past actions committed as a hegemonic power.
Between Russia and China, the Reasons for Military Action Are Fundamentally Different
Concerning the Ukraine invasion, some media argue that Russia shouldn't be forgiven, partially to keep China from changing the status quo by force, as China is preparing to invade neighboring countries such as Taiwan.
The guardian spirit of Mr. Putin said that Russia and China are fundamentally different, however. In the case of Russia, he explained that there are some groups that need to be protected because 15 states that constituted the Soviet Union have been forced to become independent, and Russian residents in some areas are experiencing human rights violations.
"It's a little different from China's repression of the Tibetans and the Uyghurs today, from the repression of Mongolia or from their attempt to invade Taiwan."
The Liberty has been pointing out in many of our articles that China developed the coronavirus, and they are spreading it all over the world. Mr. Putin's guardian spirit was aware of the fact.
Mr. Putin's guardian spirit said that "World War III has already begun" ever since China spread the coronavirus, and he criticized Mr. Biden.
"He's still unaware, after nearly one million of his people were killed?" "[The U.S.] is being attacked by China, but rather than attacking China, what are they attacking?"
The spirit said, "At any rate, I think they're going to make Russia the bad guy and fulfill their term." He pointed out that the company of Mr. Biden's son, Hunter Biden, "has received bribery" from China, and this bribery has become Mr. Biden's weak point. That's why the true origin of Covid-19 has not been proven, according to the spirit.
Regarding the "honeymoon" between Russia and China, he said, "[Russia and China] are not that close," but there is a military implication because "if there's an enemy, you have to bring your enemy's enemy to your side." He explained that the Russia-China situation is like "strange bedfellows." He added that there may be future changes to Russia-China relations.
"We'll take advantage as long as we can. Then, we'll clash if there's a conflict of interest. There's no choice," he said, leaving a trace of possibility for a shift in Russia-China relations going onwards.
The spiritual message became one that revealed what the world should look like from Mr. Putin's perspective, which can't be understood from Western media alone. This is a must-see spiritual reading to predict how our future will change per the actions of each country.
Master Okawa, in the preface and the afterword of "Ukraine Invasion and the Heart of Vladimir Putin", in which this spiritual message is printed, said the following, criticizing the Biden administration's policy to invite Ukraine into NATO.
"I don't believe Ukraine should enter the E.U. Even when Moscow was burned during the Napoleonic Wars and the Hitler war, Russia [the Soviet Union] ultimately won because it had Ukraine. It must be a nightmare for Russia, to have American-manufactured nuclear missiles lined up in Ukraine, pointing at Moscow. I had thought that President Putin, with his decisiveness, would not let this go by all means."
Master Okawa further said, "There would've been no war in Ukraine had the U.S. chosen President Trump," pointing to the rise of the Biden administration as the cause of a collapse of the world order.
"Leadership's decision-making will change the world trend from now on. This is a second defeat for Mr. Biden, following the battle against Covid-19," Master Okawa said, raising concerns about the Biden administration which continues to lose sight of international politics.
While it was not discussed during the spiritual message, it is notable that Kyiv is a Holy City for the Russian Orthodox Church. This point should not be forgotten when considering Russia's invasion of Ukraine.
Originally, Kyiv was the center of the Rus' until it fell to the Mongol Empire in the 13th century. With Kyiv at its center, Christianity spread to the Eastern Slavic regions. For instance, Kyiv-Pecherska Lavra, constructed in Kyiv in the 11th century, is deemed as the head temple of Russian Orthodoxy.
Mr. Putin would want to avoid handing over the Holy City of Kyiv to the Europeans, who are mostly Catholics.
The above article covers only a portion of the spiritual reading, and the following points were also covered.
How does he view the Japanese government's stance?
What is his current take on the Four Northern Islands?
What is the reason behind Latin American countries not using English?
What does he think about the Trump-Russia investigation during the U.S. election?
Why is North Korea launching missiles?
What did Xi Jinping ask of President Putin?
What does he think Mr. Trump would do if he was President of Russia?
How does he see the White House?
What are his bold proposals for the Korean Peninsula, Taiwan and southern China?

You can watch the lecture at any Happy Science temple or branch by clicking on the following link: Find Your Nearest Happy Science.
Related Books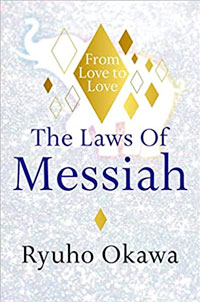 The Laws of Messiah
by Ryuho Okawa
Amazon
Barnes & Noble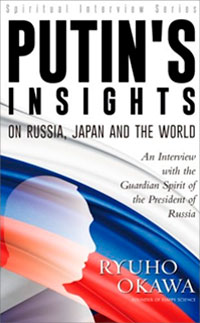 Putin's Insights on Russia, Japan and the World: An Interview with the Guardian Spirit of the President of Russia (Spiritual Interview Series)
by Ryuho Okawa
Amazon