On July 11, Happy Science CEO Master Ryuho Okawa gave a lecture entitled 'Now, Here, Elohim is Thinking About.," at Sohonzan Shoshinkan, a Happy Science facility located in Utsunomiya city, Tochigi prefecture. This lecture was held in preparation for an upcoming animated film entitled "The Laws of the Universe: The Age of Elohim", which will be released this fall.
This lecture was held for the Celebration of Lord El Cantare's Descent, one of the two biggest events in Happy Science to celebrate Master Okawa's birth. It was broadcast simultaneously to 3,500 locations worldwide over Happy Science's transit network.
Prior to the lecture, Hisaaki Takeuchi (ARI Production) sang the theme song for "The Laws of the Universe: The Age of Elohim", which was written and composed by Master Okawa. Additionally, a music video of "A Song Celebrating Lord God," sung by Happy Science Vice Chairperson Sayaka Okawa, was shown for the first time, following Mr. Takeuchi's performance. The latter song was also written and composed by Master Okawa.
Elohim Taught Good and Evil in the Context of Planet Earth
In the opening of his lecture, Master Okawa revealed the secret behind El Cantare's plan for the creation of humanity. "El Cantare" is the God of Planet Earth and the core consciousness of Master Okawa. He was born in this world under the name "Alpha" approximately 330 million years ago; the second incarnation happened approximately 150 million years ago under the name "Elohim." This is the third time for the core consciousness of El Cantare to descend upon earth.
In the Old Testament, He is known as "Elohim" or "El." His existence has been passed down over generations, and to this day, is an object of worship for Jews, Christians and Muslims as "the God of Love and the Supreme God."
Literary criticisms of the Old Testament after the 19th century have identified that the sections where God is called "Elohim" versus "Yahweh" were differentiated. Yahweh, the ethnic god native to Israel, and Elohim, the Supreme God who has been worshipped across ethnic groups and nations since ancient times, have been confused — this confusion is the source of subsequent religious wars.
Now then, what was the true intention of Elohim, the proper universal God?
Master Okawa said that during the age of Elohim, "people who forgot their original purpose from the spiritual world," in other words, the people who became attached to earth and considered the three-dimensional world as the "real world," later became the source of hell.
"The time has come when I must clarify what is right and wrong in the context of planet Earth," Master Okawa said.
The Never-ending Ambition of a Totalitarian State
It is difficult to see what is right and wrong, or good and evil, while we are living in this world.
Therefore, since ancient times, politicians, who have a duty to take care of their country, have been required to value religious faith and pray to God. In this way, politicians were able to deal with their country's affairs in ways that reflected the divine heart.
In modern times, however, democracy has become an electoral democracy. There are many cases where good and evil, or the justice of God, have been distorted through a majority vote. Master Okawa pointed out that if the majority stops believing in god, even a country ruled by law may become "hell" in this world.
Furthermore, Master Okawa cited the Chinese Communist Party's one-party dictatorship as a typical example in which hell is created in this world. He depicted the characteristics of totalitarian rule.
"It is unfortunate that hell may reappear on this world when a person in power begins to protect himself as someone with the same omnipotence as god," Master Okawa said.
He also touched on the tendency of a totalitarian state.
"What comes after suppressing a rebellion is even scarier. A totalitarian nation keeps creating enemies," Master Okawa said, as he warned of future crises in Taiwan, the Senkaku Islands, Okinawa, the Philippines and Vietnam, following the current suppression in Hong Kong.
He also left harsh yet candid advice for Japan, which continues to declare state of emergency after another, as a country that is starting to show a totalitarian tendency.
"Within a year or two, politicians [in Japan] have come to learn that 'a single cry of the crane (note: voice of authority)' can suppress the people's rights," Master Okawa said. "But, if this continues on, you should be aware of the danger of a situation in which politicians can prevent specific gatherings from taking place."
If no action is taken, a future may come where the freedom of religion and the freedom of assembly, both protected by the Constitution, will be ignored at the discretion of politicians. The people will have to exercise their right of resistance against such oppression.
Master Okawa ended the lecture as follows:
"Science and material prosperity are both okay, but this world is not the final 'residence' for human beings. It is merely a training area for human souls…Please assemble your life, and your work, around faith. Please spread to as many people as you can, the correct way of life as a human being."

The following topics were also discussed in the lecture:
How was hell created?
Leaders who intentionally isolated people — where in hell do they go?
What justice should Japan pursue?
Why should Japanese citizens stand firm against the Japanese government?
What's the dangerous outlook on our future economy?
What's the issue with "__ capitalism" due to AI?
The thought during the creation of humanity and the LGBT issue that has gone too far
Related Books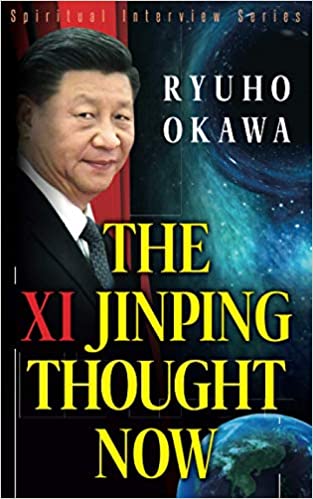 The Xi Jinping Thought Now
by Ryuho Okawa