An expert on China-related matters explained China's unexpected motive behind the COVID-19 outbreak.
Gordon G. Chang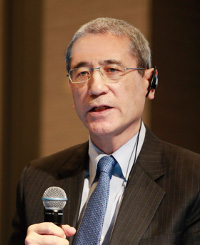 Asia analyst
Gordon G. Chang graduated from Cornell University in 1973. He is a well-known columnist who makes frequent appearances on U.S. television programs. He is the author of "The Coming Collapse of China" (2001), among other books. Follow him on Twitter @GordonGChang.
In the beginning of the year, those who suggested that the coronavirus was engineered in a lab were derided as 'crackpots.'
Now, the so-called crackpots are making a comeback. Virologists and others are beginning to challenge orthodox views, and those debunking the made-in-a-lab theory are themselves being debunked.
The first cases of COVID-19 were diagnosed close to the P-4 laboratory of the Wuhan Institute of Virology, which stored more than 1,500 strains of the virus. That is undoubtedly more than just a coincidence. China's explanation that the disease naturally occurred, but nonetheless showed up near that lab, appears improbable.
Yes, the international community does not know for sure how COVID-19 started, but there are two things we do know. First, China's regime has done its best to prevent the international community from investigating the origin of the disease. Second, Beijing in late January sent the country's top bioweapons expert to head the P-4 lab at the Wuhan Institute. This looks highly suspicious.
Alina Chan, a microbiologist at the Broad Institute of MIT and Harvard, has raised questions suggesting the coronavirus was cooked in a lab. Her theories look correct, and despite the efforts of the international scientific establishment, no one has been able to show that she is wrong..
Given these observations, it is more probable than not that China engineered the coronavirus as a biological weapon.
China Took Advantage of Tourists to Attack the Entire Globe
Whether the coronavirus is naturally occurring or made in a lab, Chinese ruler Xi Jinping turned it into a weapon.
Chinese leaders knew for weeks that the coronavirus could be easily transmitted from one human to another, but they engaged in a campaign of deception to tell the world it was not contagious. As part of Beijing's campaign, Chinese officials successfully enlisted the help of the World Health Organization to propagate the false narrative.
To make matters worse, Xi Jinping pressured countries to not impose travel restrictions and quarantines on arrivals from China. At the same time, he imposed travel restrictions and quarantines inside his country. Xi , therefore, must have thought he was spreading the disease by leaning on other countries to accept arrivals from China. It is these arrivals that turned an epidemic in central China into a global pandemic.
The only explanation that fits the facts is that Xi Jinping maliciously spread the virus to the world. This is the first time in history that one nation has attacked all the others.
Don't Hand Over Your DNA to China
COVID-19 has hit some countries much harder than others. This leads to ask a question: Was the disease engineered to target particular ethnic or racial groups? There is no proof of that, but the Defense One site reports that the 2017 edition of "Science of Military Strategy," published by the National Defense University of the People's Liberation Army, mentions the potential for biological warfare research to include "specific ethnic genetic attacks."
China has amassed the world's largest database for collecting genetic information of both Chinese citizens and foreigners.
A half decade ago, China hacked Anthem, the second-largest health insurance company in the U.S., and stole personal information, about 80 million records. China now wants to obtain more personal data by requiring internationally accepted QR codes for travelers.
In addition, Beijing's prohibition of the transfer of genetic data of Chinese citizens to parties outside China is consistent with American suspicions of weaponization.
U.S. government officials are in fact worried that China is developing biological weapons that target certain ethnic or racial groups.
We cannot allow China to obtain any more of our DNA data.