With much unverifiable news on the new pneumonia-like syndrome, people don't know what to believe in. The Liberty will dive into the truth behind the coronavirus.
Infection Timeline of the Coronavirus
December 18, 2019:

Patients with pneumonia of an unknown cause identified in Wuhan

January 1, 2020:

Huanan Seafood Wholesale Market said to be where the virus originated-closed

January 8:

Chinese government announced discovery of a new coronavirus

January 16:

Japan confirmed first case of infection from coronavirus

January 23:

Chinese government shut down Wuhan's public transport including airport and bus services

January 24:

Japan's Ministry of Foreign Affairs issued a warning against traveling to Hubei Province, where Wuhan is located

January 27:

Chinese government banned overseas group tours

January 30:

World Health Organization (WHO) declared coronavirus outbreak a global emergency

February 1:

U.S. rejected entry from China

February 7:

Japanese government demanded support from government-affiliated financial institutions to finance small and medium-size enterprises (SMEs)

February 13:

Japan recorded its first death from the coronavirus

According to Johns Hopkins University, over 73,000 cases of the coronavirus have been confirmed in nearly 30 countries around the world (as of Feb. 18). Some sources claim that several hundred thousand people have been infected, and this number is projected to increase.
Countries such as the U.S., Singapore and Australia rejected entry from China. On the other hand, Japan only denies entry to foreign nationals who have been in Hubei or Zhejiang province. Concerned voices within Japan are calling for firmer measures.
The coronavirus puts people in fear, as unclear information spreads. What should we take away from this situation and how should we act? There are three issues regarding China that have been uncovered.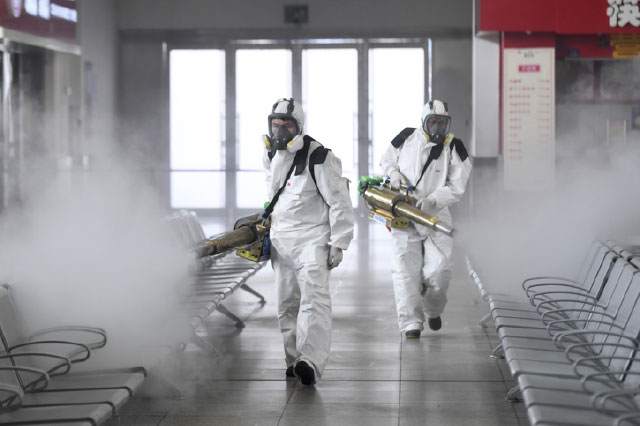 Disinfection process.(photo:Top photo/Aflo)
Communist Party's Cover-Up
Authorities in China failed to disclose the information for at least one month, allowing for a wide spread of the infection.
Criticisms erupted within China as a result, and to make matters worse, a Chinese doctor who warned about the new virus was punished by Wuhan.
Last December, this man shared information regarding the coronavirus with other doctors over social media. He was disciplined by the authorities and received a warning. From there, he was infected by the coronavirus and died.
People were angry about the city failing to disclose information about the outbreak by silencing the doctor, and the mayor was dismissed in mid-February.
However, people of the region are still in distrust, as they believe that the Chinese government "sacrificed" the mayor to put the responsibility on the city.
Was It a Leak From the Biological Warfare Lab?
The second attention is on China's secret biological warfare research.
In January, the Washington Times reported the possibility of the coronavirus being leaked from a virus research lab in Wuhan. A former self-defense officer said that a virus can be leaked to the public, and experts have pointed out that a virus will leak from China due to their poor sanitation.
In addition, Dr. Francis Boyle, who drafted the U.S. domestic implementing legislation for the Biological Weapons Convention, spoke in an interview for Geopolitics & Empire. Dr. Boyle said that while the coronavirus can't be confirmed as a biological weapon, he can't deny the possibility of it leaking from the research lab.
Dr. Boyle said, "…the coronavirus that we're dealing with here is an offensive biological warfare weapon…there had been previous reports of problems with that lab and things leaking out of it."
Premier Li Keqiang visits Wuhan.(photo:Xinhua/Aflo)
Slowdown of Japanese Economy and Dependency on China
The third point is that as a result of China shutting down many cities to prevent infection, their economy has slowed and dragged down business activities of foreign businesses including those from Japan.
If business activities stop, enterprises will go bankrupt due to lack of funding. According to a survey done on SMEs, 34% of businesses said that they can survive for a month on current cash flow projections, and 85% for three months(*).
China's think tank claims that their country's economic damages amount to approximately 150 billion dollars. Japan's economic growth will further decline as Japanese businesses struggle to export to China.
In addition, the virus is affecting Japanese companies abroad who rely on China for their procurement and production components of the supply chain. Automobile manufacturers such as Toyota, Nissan and Mazda, as well as Chinese factories for Panasonic and Murata Manufacturing stopped operating temporarily.
The Japanese economy's heavy dependency on China has been exposed, and new measures are demanded.
(*)Survey released by Tsinghua University and Peking University of 1,000 SMEs in February.