Master Okawa conducts a lecture.

The El Cantare Celebration, one of the two largest annual events of Happy Science, took place in Saitama Super Arena, Japan, on the night of the 17th.
Happy Science founder and CEO Master Ryuho Okawa conducted a lecture entitled "Into the New Age of Prosperity" in front of 17,000 people who gathered at the venue. Through Happy Science's transit network, the event was broadcasted live in 3,500 locations around the world including Japan.
As of this September, Master Okawa has surpassed 3,000 lectures; this lecture marks his 3,033rd. In addition, he has recorded 997 spiritual interviews and readings as of Dec. 17, and is close to reaching 1,000.
'Unfortunately, a Bridge Is Forming Between Our Technological Society and Totalitarianism'
Master Okawa has been acknowledging the benefits of computers like AI bringing in profits for countries and companies alike, but he pointed out what society has overlooked.
"[Society has] just now realized that our technological society is on the verge of connecting with totalitarianism."
Master Okawa informed that one surveillance camera will be placed for every two persons in China by 2022, and cautioned a coming society where humans will be under AI surveillance.
"What we need now is for everyone to be bold by showing their faces, expressing their opinions and acting. Be involved with political activities. Only when diverse values clash, can we choose a path that everyone will follow."
Master Okawa mentioned that a resistance movement will be needed to counter a worship of machines, since "a machine doesn't know God."
What Will Threaten Japan and Other Nations When the Chinese Economy Collapses?
Master Okawa also gave a warning on the impending collapse of China's economy.
China's economy crash will have a huge impact on Japan as well. He suggested that Prime Minster Shinzo Abe "study up on the banking system" and gave concrete numbers of what would happen to Japanese local banks and megabanks if the government continues to not take action.
He also forecasted a dangerous action that China may take, if they can't recollect money from countries of the Belt and Road Initiative.
At the end of the lecture, Master Okawa gave a warning concerning humankind's separation from the heavenly world, and wrapped up the event with a powerful conclusion.
"Any natural disasters or calamities can be overcome by the power of faith to change the future!"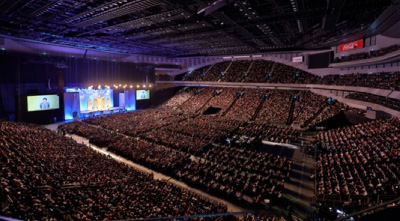 17,000 people in the audience fill up the Saitama Super Arena.
The following topics were also discussed in the lecture:
The background behind the climbing approval rate of Taiwan's President Tsai Ing-wen
What kind of companies will go out of business beyond 2020? What kind of human talents are needed beyond 2020?
Japan's current administration favors "a big government" and the problem with Japanese citizens
The problem with a computer deciding to "kill off an embryo at an early stage"
The reason behind publishing nearly 1,000 spiritual messages
What are "two possible futures" that depend on China's decision?
The mistake of "global warming" that is based on the past 30 years' rising temperatures