Caption 1: People from Happiness Realization Party conduct protests in the city of Nagoya.

On Sept 29, Hong Kong protesters marched for anti-totalitarianism against the Chinese Communist Party (CCP), which robs people's freedom and spreads totalitarianism in-and-out of their nation. They also were protesting the Hong Kong government which falls under the CCP.
Nearly 70 rallies have been planned in cities worldwide from 24 countries including Taiwan, the U.S., Canada, Germany, France and Australia.
On the same day in Nagoya, Aichi Prefecture (JPN), the Happiness Realization Party (HRP)'s Aichi Prefecture Headquarters held a rally in support of the Hong Kong protests with the slogan "#Hong Kong Revolution—Now is the time to fight for liberty! — 9/29 Nagoya Rally."
Approximately 800 participants came from surrounding areas such as Aichi, Gifu and Mie. They marched on bustling streets of central Nagoya and called out in unity: "Fair democratic elections in Hong Kong!" and "CCP, guarantee freedom for Hong Kong citizens!"

Caption 2: Participants march with various signs and posters. (Parts of the photos edited.)

The HRP's rallies in support of Hong Kong began with Okinawa in June and Tokyo on Sept. 16, continuing on in Osaka and Hiroshima on Sept. 23. Each rally consisted of from 350 to 1,000 participants, and the most recent one in Nagoya became the third consecutive weekly rally.
Caption 3: HRP rally in Osaka on Sept. 23.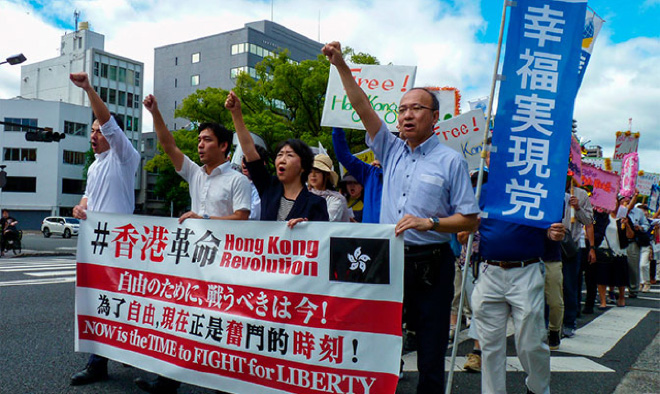 Caption 3: HRP rally in Hiroshima on Sept. 23.
Master Okawa Stated, 'Hong Kong people must become leaders for those in China,' During his Hong Kong Lecture Eight Years Ago
In May 2011, Founder and CEO of HRP, as well as CEO of Happy Science with followers from over 100 countries worldwide, Master Ryuho Okawa held an English lecture titled "The Fact and the Truth" in Hong Kong.
Master Okawa said the following in front of an audience of approximately 1,300 people:
"I came here to simply say the following message: That is, Hong Kong's prosperity is very important for the future prosperity of China … Today, I would like to ask everyone a favor. You have something very special right now, very precious in value. That value is 'freedom.'"
"If you had to choose between freedom or equality, please first choose freedom. Equality of choice exists within freedom. Equality of choice defines the equality of choosing prosperity and effort."
"I'd like to add that human beings have free-thought; therefore, we feel happiness. No one can take that freedom away from you."

During the Q&A session that followed his lecture, Master Okawa said that the people of Hong Kong must become leaders of the Chinese people.
"Once you've experienced prosperity, you'll never forget it. Someone who has grasped prosperity can share their methodology of prospering in this world … Although you are a part of China, you are China's teacher … You are leaders of the Chinese people … I want you to enlighten every single person in China and be responsible for leading the way of China's future. People around the world will welcome it."

This lecture was like a forecast of today's situation in Hong Kong. In other words, the movement to protect Hong Kong's freedom isn't a "final resistance" — it is the beginning of a newly written history in the name of the "Hong Kong Revolution."
As of now, other political parties in Japan aren't speaking out on Hong Kong from fear of worsening their relationship with China. However, if they aim to achieve true "Japan-China peace," now is the time for the Japanese people to call out the Chinese government and protect Hong Kong's freedom.
If the public opinion in support of Hong Kong increases internationally, a new future will open up — CCP's totalitarianism will start to lose its grip, and China will begin to democratize and happiness will spread amongst the Chinese people.