Hu Chunhua "Specializes" in Crackdowns
Probing Into the Personality of China's Next Leader
Special Interview Edition With Masaru Soma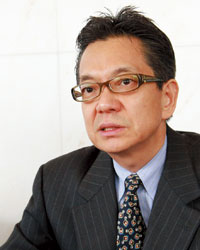 Masaru Soma
Born in Aomori prefecture, 1956. After graduating from Tokyo University of Foreign Studies Department of Chinese, joined Sankei Newspaper. Worked in positions such as Hong Kong bureau chief, and Deputy Director of foreign news section. 1998~1999, studied abroad at America's Harvard University as a Nieman fellow. Left Sankei Newspaper in 2010. Currently active as a journalist. His numerous works include, "People Erased by the Chinese Communist Party," wrote "The Real Xi Jinping" under the name 'Izuru Kayasawa', translated, "The New Emperor. The Real Hu Jintao". (All published by Shogakukan).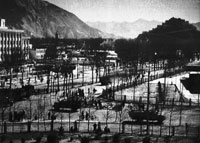 Above, March 1989, scene in Lhasa, photographed by a tourist held in a hotel. Martial law had been declared, and tanks and trucks of the Chinese army could be seen on the streets. The mountain-like shadow in the upper right is Potala Palace, the center of Tibetan Buddhism and politics.
(Photo: AP/Aflo)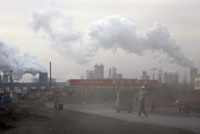 Below, December 2009, industrial area within Mongol Autonomous Region. With sudden development, the atmosphere has been polluted with dust and smoke.
(Photo: Reuters/Aflo)
Hu Chunhua "Specializes" in Crackdowns
In the 6th generation, those whose names have been speculated for the post-Xi Jinping include the leader of Chongqing, Sun Zhengcai; President of the Supreme People's Court, Zhou Qiang; and the governor of Heilongjiang, Lu Hao. However, Hu Chunhua, the top of Guangdong, is said to be the most promising.
Roughly explained, Hu Chunhua is the ace at the Communist Party's youth organization, "The Communist Youth League of China". He is a central figure in the "Crown Prince Party", made up of the descendants of prominent senior Communist Party officials. He will be a political opponent of President Xi Jinping.
In January 2013 in Guandong, an editorial in the local newspaper, "The Southern Weekly", was changed under pressure, and made international news. More recently, in February of the New Year on the lunar calendar, a live broadcast exposing the sex industry thriving in Guangdong's Dongguan city was suddenly shown by CCTV at a time when people all over China would be watching.
This certainly must have been work from within the party, and should be considered a move against Hu Chunhua by Xi Jinping. Hu Chunhua will probably refrain from making any bold moves, therefore, until the end of the Xi regime's term in the spring of 2023.
Supported Hu Jintao during the Crackdown on Tibetans
Hu Chunhua was born to farmers of Han Chinese, in Wufeng Tujia Autonomous County of Guangdong where ethnic minorities live. He was brilliant from a young age, and was called a "prodigy" since the county was established, and graduated high school skipping grades. He entered China's highest institution, the University of Beijing, at the age of 16.
After graduating in 1983, his future goals are especially of interest. He declared, "I will dedicate my life to Tibet." He volunteered and was appointed as a cadre in the Communist Youth League in the Tibet Autonomous Region, and this was widely reported in such publications as the People's Daily. From there he worked 23 years, holding such positions as the chief editor of the local party newspaper, "Tibet Daily," and the president of the state owned Lhasa Hotel. His biggest springboard came after this.
In December 1988, Hu Jintao, who was later to become the President, was appointed as the top official in the Tibet Autonomous Region. And in March of 1989, in the capital of the region, Lhasa, a large clash occurred between the security forces and Tibetans seeking freedom. It is said that Hu Jintao declared martial law, deployed the military to crackdown on the people, which resulted in hundreds of deaths.
It was Hu Chunhua, who supported Hu Jintao, who had been appointed only four months prior. Apparently, making full use of the Tibetan language, he introduced people with a wide network in public life, such as the public safety commissioner and the local military, and advised on how to deal with ethnic minorities. Hu Jintao had become ill with mountain sickness in Tibet and had to rest for a while in Beijing. It was Hu Chunhua who substituted for him in Tibet during that time.
The Ace of the Communist Youth League was well taken care of as the Next President to be
Hu Chunhua is Hu Jintao's henchman. They are both aces in the Youth League. He is likely to deliver Hu Chunhua to the presidency, for the sake of his security as well.
As evidence of this, in the autumn of 2008, when Hu Chunhua was appointed as number two in Heibei, an incident occurred where 50,000 infants were harmed by powdered milk that was adulterated with melamine. Hu Jintao, who had become President by then, moved Hu Chunhua to the Inner Mongolia Autonomous Region right away. This was a "promotion", to the top of the region.
America and China may rapidly come Closer in the Middle of the 2020s
Hu Chunhua's political competency may be quite something. In May of 2011, in Xilinhot in Inner Mongolia, an incident occurred where a herder protesting the intrusions of the Chinese government was run over and killed by a truck carrying coal. 20,000 herders and students protested after that.
Media from all over the world tried to report on this from the region, but Hu Chunhua deployed troops and completely excluded them. He put the area on high alert, making efforts to stop students from joining the protest by placing them in detention on campus.
Furthermore, in Tibet, he had set up transportation infrastructures such as railways and airports, and has begun mining development. To make management of 2,000,000 herders who lead nomadic lives easier, he had 2,000,000 houses built, took away their livestock, and forced the herders into these homes.
What is especially of concern is his relationship with America. In June 2012, when Hu Chunhua was at the top of the Inner Mongolia Autonomous Region, U.S. Ambassador to China, Gary Locke, had gone out of his way to visit the region, and exchanged views with Hu Chunhua over drinks.
Locke was the former Secretary of Commerce, and is the first Chinese American individual to work as an Ambassador to China.. His name has already been mentioned as a possible future Presidential contender. And if he does become President in the middle of the 2020's, and Hu Chunhua also becomes President in the spring of 2023, then America and China might suddenly become closer. What would happen to the American-Japanese alliance then?
It is necessary that the Japanese people must keep such threats in mind, and think about diplomacy and defense from a long-term perspective.