In 2012, major countries neighboring Japan will go through changes of leadership. How will the world power balance change? What should Japan do to be ready for all sorts of change? Furthermore, we have "the year 2012 Mayan prophecy". Surrounded by upheavals, what hope can humankind find in the turbulent year 2012?
Part I. International Politics
Maintain the ties with the U.S., South Korea, Australia and India
Interview in October 2011 with Mr. Hisahiko Okazaki, a former ambassador to Thailand: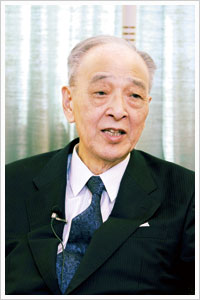 Okazaki Hisahiko,
Okazaki Hisahiko was born 1930 in Dalian (China). He majored Law at Tokyo University. He passed the Foreign Service Exam while a student. He entered the Foreign Ministry in 1952. He completed his B.A. and M.A. in Economics at Cambridge University, England in 1955. He was appointed as the first head of the Information Research Department in 1984.
Later he served as the ambassador to Saudi Arabia and Thailand. He retired in 1992. His present position is as the director of Okazaki Institution for Strategic and Area Studies, a non-profit think tank. He is an author of many publications including "Munemitsu Mutsu and His Age" and "What is True Conservatism" etc.