The South China Sea is China's geopolitical axis.
China analyst Masaru Soma reports on the behind the scenes of China's leaders.
We can see where international politics is headed by examining the prevailing power balance.
Masaru Souma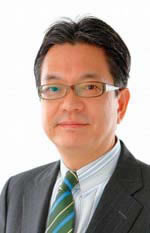 Born in Japan 1956, he graduated from Tokyo University of Foreign Studies studying the Chinese language, and worked for Sankei Shinbun. There, he served as Hong Kong branch director and assistant manager of the foreign news department. From 1998-9, he was granted the Nieman Fellowship to attend Harvard University. He left Sankei in 2010, and now works as a journalist. His publications include Xi Jinping's Anti-Japan Strategy.
Several events that occurred in the first 10 days of 2019 will spark a significant change in relations between China and Taiwan, the U.S. and China, China and North Korea and the U.S. and North Korea.
On the 2nd of January, President of China Xi Jinping declared that "China has a right to use military force for Taiwan's unification." Taiwanese President Tsai Ing-wen responded that China and Taiwan are, "fundamentally different," and strongly opposed Xi's claim, saying that unification was out of the question.
From the 7th to the 9th of January a U.S. government delegation attended Beijing for talks with China about the future of the trade war. At the same time, from the 7th to the 10th of January, North Korean leader Kim Jong-un made his fourth visit to Beijing for talks with Xi. It seems like they were discussing the upcoming U.S.-North Korea summit.
Make Preparations for War
The most concerning issue of all, however, is the potential conflict between the U.S. and China over the Taiwan question.
"The People's Liberation Army should be prepared to make speedy responses during emergencies, increase skills in joint strategies, and improve on new kinds of combat-power," Xi declared at the Central Military Commission on the 4th of January. "We must make total preparation for war."
His speech had all the indicators of a potential outbreak of military conflict.
The movement in this direction began when U.S. President Donald Trump signed the Asia Reassurance Initiative Act late last year.
The new law included a comprehensive reinforcement of cooperation in economic and national safety matters. It also included items to restrain China, such as the promotion of sales of military defence equipment, and frequent freedom of navigation exercises in the South and East China Seas, where China is now spreading its military wings.
This is the Trump administration and Congress' attempt to put pressure on China in light of the upcoming deadline for the China-United States trade deal o 1st of March.
The U.S. will also invest $1.5 billion in the next 5 years towards military training and marine patrols in South East Asia. Additionally, they will strengthen cooperative relations with Taiwan on a state and regional level, and the new law also encourages U.S. officials to visit Taiwan.
In March 2018, the Trump administration started to seriously support Taiwan when it legislated the Taiwan Travel Act to improve connections between officials from both countries.
Tsai Ing-wen responded to Xi's proposal to hold political discussions with Taiwan's parties and groups by declaring that relations with China should be peaceful and as equals. "We cannot accept plots that use pressure and threats to make the Taiwanese people obey," she said. "Taiwan's absolute majority, the people's will, resolutely opposes" Xi Jinping's idea of One Country Two Systems, she added.

Taiwan As The Backdrop of U.S.-China Conflict
But the Tsai Ing-wen administration is now stuck in a difficult situation.
At the Tainwanese local elections held last November, the Democratic Progressive Party, of which Tsai was the leader, lost two important municipalities – Taichung and Kaohsiung – to the Kuomintang, the opposition party. The DPP also lost 7 of their 13 mayors and magistrates. Tsai had no choice but to take responsibility and step down as party leader.
The people of Taiwan were dissatisfied with income stagnation and held the Tsai administration responsible, but the real reason for economic downturn is the souring relations with China.
The former Taiwanese president and Kuomintang leader Ma Ying-jeou, who was in office for two terms (8 years) ending in May 2016, had maintained friendly relations with Xi's aides. This resulted in an increased influx of tourists from Mainland China. In 2015 the number of tourists from China doubled from the previous year, and hit a record high of 5 million.
On the other hand, in 2017 after Tsai's inauguration the number of tourists from China dropped by almost half down to 2.73 million. The DPP fears that if this continues, Tsai may be defeated in the 2020 elections.
Additionally, we can expect Taiwan to suffer heavy damage from the U.S.-China trade war conflict: the stronger Trump supports Taiwan, the more pressure Xi will put on Tsai. Taiwan is about to become the backdrop of the U.S.-China conflict. Now we can see that Xi's speech about military action is no mere fantasy.
Are We Prepared for The Impending Crisis?
Nor is this a mere fantasy for Japan.
According to the Ministry of Foreign Affairs, the number of Japanese businesses that have expanded into China totals 22,349 and the number of Japanese expatriates saw an increase of 9.2% since the previous year, rising to 124,162 (census published 1st October 2017). No doubt China is a huge market for Japan. But if China begins their anti-Japan hysteria like they did back in 2012 with the Okinawa-Senkaku Islands dispute, having business connections in China would mean a devastating loss for Japan's economy.
Japan must be prepared in economic, trade, diplomatic and national safety areas so they can protect the values of freedom and democracy when such a crisis arises. This year, the people of Japan must keep questioning whether we are indeed truly prepared.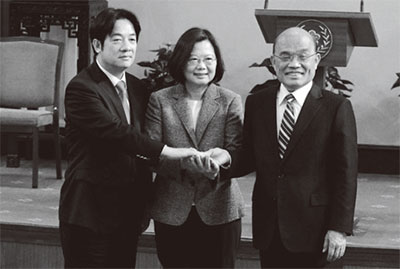 William Lai (left) who resigned as Premier of Taiwan after the November local elections turned out disappointing results for the DPP. President Tsai appointed Su Tseng-chang (right) as the new Premier from January this year.

Key points in this article:
2019 began with a number of incidents that will spark significant political changes in East Asia.
Especially fishy is the U.S.-China conflict around Taiwan.
Is Japan prepared for the China crisis?