The U.S and China are having a confrontation over Taiwan. The U.S. wants to protect Taiwan from China's desire of annexation.
What, then, should Japan do?
"We have strong determination, confidence and enough ability to destroy any powers that seek Taiwan's independence." Thus spoke Chinese President Xi Jinping at the 19th national Congress of the Communist Party of China held in October last year.
He claimed that Taiwan is territorially inseparable from China and the Communist Party has made "unification with Taiwan" one of its three "historical duties."
China's pressures increased after the separatist Tsai Ing-wen administration took power in 2016, including military pressure, such as flying fighter jets around Taiwan and deploying the Liaoning aircraft carrier.
After Tsai's inauguration, China pressured 5 countries to cut diplomatic ties with Taiwan to form ties with China instead. In September, the Vatican – the only European state to have ties with Taiwan – suddenly began displaying intimacy with China.
Taiwan Defense's 2018 report on Military and Security Developments Involving the People's Republic of China states that China will be prepared to make a full-scale military offensive on Taiwan by 2020, and a researcher involved with the People Liberation Army says that unification with Taiwan is planned for between 2020 and 2025.
Trump Administration Is Protecting Taiwan
Until the end of the Obama administration, the U.S. had been refraining from making any suggestions about the Taiwan problem that might become cause for conflict with China. The Trump administration, however, has been prioritizing support for Taiwan over concern for China.
Trump's phone conversation with Tsai just before his inauguration made huge headlines for being a historic moment. In his first national security strategy speech after his inauguration, he pledged his "commitments under the Taiwan Relations Act to provide for Taiwan's legitimate defense needs".
He later legislated the Taiwan Travel Act and opened a new American Institute in Taiwan (AIT) facility in Taipei, effectively functioning as a U.S. Embassy.
In October, Vice President Mike Pence was critical that China's diplomatic pressures on Taiwan "threaten the stability of the Taiwan Strait." The U.S.-China Cold War over Taiwan is freezing over.
The U.S. Protects Taiwan
2016
December: Before his inauguration, Trump has a phone conversation with President Tsai

2017
June: The U.S. announced a $1.4 bill arms deal with Taiwan
December: The U.S. pledges "commitments under the Taiwan Relations Act to provide for Taiwan's legitimate defense needs" in the National Security Strategy

2018
March: A new Taiwan Travel Act is legislated to encourage more visits between officials of both countries
June: The American Institute in Taiwan, a de facto U.S. Embassy, opens in Taipei
August: National Defense Authorization Act specifies, "Strengthening the defense partnership between the United States and Taiwan"
September: The administration recalls the U.S. ambassadors from 3 countries that broke relations with Taiwan to switch to China
October: Vice President Mike Pence uncharacteristically slams China's Taiwan policy
China Pressures Taiwan
2016
December: The first China-made aircraft carrier, Lioaning, deployed near Taiwan
December: China forces Sao Tome and Principe (West Africa) to cut ties with Taiwan

2017
June: China forces the Republic of Panama to cut ties with Taiwan

2018
April: China holds naval exercises in the Taiwan Strait, while multiple fighter jets circle Taiwan
May: China forces the Commonwealth of Dominica and Burkina Faso (West Africa) to cut ties with Taiwan
August: China forces El Salvador to cut ties with Taiwan
September: China hands out immigration papers to Taiwanese people living on the Mainland to assimilate them.
September: China forms an agreement with the Holy See over the bishop problem. Will they make the Vatican cut ties with Taiwan?
Taiwan's Political Status
With support from the U.S., Taiwanese President Tsai Ing-wen is holding her ground against China.
During her historical visits to Latin America in August, Tsai made a stopover at Los Angeles, California, and gave a speech at the Ronald Reagan Presidential Library.
It was the first time in 15 years that a Taiwanese President made an address in the U.S., and Tsai took the opportunity to express gratitude to former President Reagan for his long support for Taiwan. She evoked Reagan saying, "Everything is negotiable except our freedom and our future . . . I believe this is also how we Taiwanese feel now."
On 10 October, Taiwan's National Day, Tsai referred to China's looming threat saying, "China's pressures are challenging the peace and safety of the Taiwan Strait." But "we will not submit nor compromise" and the China-Taiwan relations must maintain its status quo, she said. By status quo, she means for Taiwan to maintain its independence and sovereignty, so her remarks can be seen as a declaration of independence.
Taiwan Will Decide Her Own Future
As China increases pressure on Taiwan in the hope of absorbing the island nation, the situation within Taiwan is taking an encouraging turn. The impending crisis has emboldened the pro-independence activists, and the country is moving towards holding a public poll on the independence question.
Back in April, these activists gathered to establish a political coalition called "Formosa Alliance", that aims to organize and accomplish this poll. "We Taiwanese must show the world that we are determined to decide our own future, and overturn China's ambitions of unification," said the 95-year-old former President Lee Teng-hui in his remarks at the founding ceremony.
Huang Kuo-chang, the Chairperson of the pro-independence New Power Party also attended the ceremony. The New Power Party was founded in 2014 by the leaders of the Sunflower Student Movement, and has a high support rate among the younger generations.
The Liberty Magazine interviewed Huang on his vision for an independent Taiwan.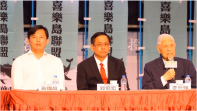 April 2018: The founding ceremony of the Formosa Alliance was held in Kaohsiung, southern Taiwan. Attendees included former President Lee Teng-hui and New Power Party chairperson Huang Kuo-chang.
---
Interview 1
Taiwan Wants Support for Independence From the U.S. and Japan
Huang Kuo-chang
Chairperson of the New Power Party (Taiwan)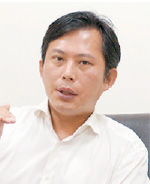 Huang is a member of the Legislative Yuan. Born in 1973, he graduated from the National Taiwan University, Cornell University and the University of Tokyo, and later joined the Institutum Iurisprudentiae, Academia Sinica (IIAS). In 2015, he became a founding member of the pro-independence political party, the New Power Party. He entered the legislative election in 2016 as a candidate for his party, and won the seat.
I have constantly advocated independence for Taiwan, and have been involved in many political actions to that end. Our goal is to make Taiwan a healthy country. We are currently trying to amend the constitution so we can have a public poll on the independence argument in April 2019.
In February of this year pro-independence politicians and activists gathered to form the Formosa Alliance coalition. In making Taiwan a healthy country, we are trying to change the country's name from "The Republic of China" to "Taiwan", and to be accepted into the UN.
I would like the Tsai administration to be even more resolute against China.
The Tsai administration wants to maintain the status quo, but China will never stop tormenting Taiwan. They pressured 5 countries in Latin America and Africa to cut ties with Taiwan, and are handing out immigration forms for Taiwanese people living in China to assimilate them.
The Taiwanese government must have more courage to radically change its relationship with the Beijing government, and should declare to the international community that Taiwan is an independent sovereign nation.
We're grateful for the Trump administration's Taiwan policies. The Taiwan Travel Act has made possible a more intimate military cooperation.
We would like the U.S. government to go one step further and declare that they do not acknowledge China's "One China" principle. The One China policy is a huge obstacle in Taiwan's growth as a healthy country. The Tsai administration should negotiate with the U.S. to a point where the U.S. vows to advocate Taiwan's right of self-determination and support Taiwan's independence.
Cooperation with Democratic Countries is Crucial
For Taiwan, it is crucial to have a cooperative network with other countries that share the values of democracy. So important potential allies include not just the U.S. but also Japan.
Taiwan and Japan have a strong connection. We would like this connection to materialize into a political or economic tie, like a trade agreement. There is an active movement in Taiwan toward conducting a public poll on whether we should participate in the 2020 Tokyo Olympics under the name "Taiwan" or not. Endorsement from the Japanese government here would also make a huge difference.

---
Interview 2
I Want to Spread Taiwan's Freedom, Democracy and Human Rights to China
Dr. Ford Fu-Te Liao
President of the Taiwan Foundation for Democracy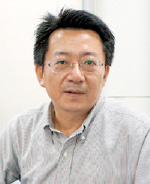 Born in 1965 in Taipei, he graduated from Tunghai University and National Taipei University, and from the University of Oxford with a Ph.D. in Law. He is a research professor at the Institutum Iurisprudentiae, Academia Sinica and has previously served as the Deputy Convener of the Presidential Office Human Rights Consultative Committee, and the Vice President of the Taiwan Association for Human Rights.
Right now, the human rights problem in China is getting worse. In recent years China has started to use state-of-the-art AI technology as tools for human rights oppressions.
China's Xinjiang Uyghur Autonomous Region has turned into the sort of society that George Orwell depicts in "1984", and if left alone, the whole of China will turn into a surveillance society that uses the latest technology.
I think it's important to let the world know of this situation in order to fix China's human rights problems. That's why at the Taiwan Foundation for Democracy we issue an annual China Human Rights Report in both English and Chinese.
The Foundation's other mission is to create a global network to spread democracy throughout Asia. There are many NGOs in Asia and around the world that are working on China's human rights issues and its democratization. Through cooperating with these NGOs, educational institutions and think tanks, we are creating a network to spread democracy in Asia.
We want the Japanese government to be more involved in solving human rights problems. We also want to have contact with NGOs and political parties in Japan.
Chinese People Learn of Freedom in Taiwan
We feel it is very important that our activism for protecting human rights and democracy in Asia is happening in Taiwan. The freedom and democracy that the people of Taiwan now enjoy is built upon long years of effort and sacrifice. That's why the people of Taiwan don't take freedom and democracy for granted. We never stop striving for democracy, freedom and human rights. We cannot maintain these values unless we work hard to.
If you listen to the Chinese people who come to Taiwan, many of them are impressed by the freedom in Taiwan. We want more Chinese people to come to Taiwan and enjoy our freedom and democracy. There are many democracy activists in China itself, so we would also like to get in contact with them.
Taiwan is part of Greater China, speaks the same language as China, and has a miraculous history of transitioning from dictatorial government to democracy. China has a lot to learn from Taiwan's experiences.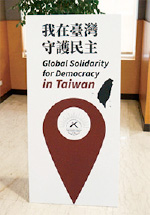 ---
Interview 3
We Want Japan To Support Taiwan's Economic Independence
Chiang Chih-ming
Taipei City Councilor, Democratic Progressive Party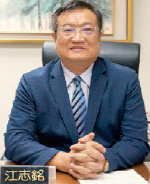 Born in 1962, he is an executive member of the Taipei Economic and Cultural Representative Office in Japan and the One Country on Each Side Federation. He was the secretary to former President Chen Shui-bian.
Taiwan's current greatest trouble is that China is trying to isolate us from the international community and trying to block our activism. China is also using Taiwan's democracy to send espionage into the Taiwanese government and these people are pulling all sorts of strings to absorb Taiwan into China.
Taiwan has a need to maintain political independence, and that means we need economic independence. Hong Kong is being absorbed into China, but that is because their economy is completely reliant on China.
More than half of Taiwan's exports go to China. It's only natural that Taiwan's economy is becoming integrated into China's. Taiwan has responded to this threat with the New Southern Policy, to spread our markets away from China into South East Asia to strengthen economic relations there. The problem is that the South East Asian economy is already under China's influences, and they tend to keep Taiwan at arms-length.
If Taiwan can gain support from Japan, Japan's friendly relations with South East Asia can help us form closer connections there. We are also hopeful for Trump's pro-Taiwan policies. We would like to continue deepening relations with countries that share democratic values like the U.S. and Japan.
---
Interview 4
We Must Stop Human Capital From Flowing Into China
Gao Jiayu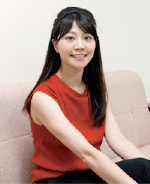 Taipei City Councilor, Democratic Progressive Party
Born in 1980, she graduated from National Taiwan University and in 2014 at age 24, became the youngest ever representative at the National Assembly. She won the seat with an unprecedented 16% vote.
China has adopted a policy to appease the Taiwanese people living on the Mainland, and many Taiwanese are being attracted to China. But there is a risk involved when Taiwanese people receive immigration documents in China.
The Chinese government would have complete grasp over the flow of money, and there is danger of property distrainment and people getting arrested. China also has a law that obligates foreigners to pay taxes if they reside in China for over 100 days. The Taiwanese government must inform the people moving to China of these inherent risks.
Ever since they were born, the younger generation Taiwanese have thought of Taiwan as an independent sovereign nation. But many of them still travel to China in search for jobs, attracted by China's economic development. We need a policy to stop these people from leaving Taiwan. For example, we could invite overseas businesses into Taiwan to improve Taiwan's industries.
China's "One Belt, One Road" strategy is the strategy of economic colonization. Taiwan must cooperate with likeminded countries nearby to fight China's expanding economic empire.
To be continued to the Part.2