(Photograph: Andrea Raffin / Shutterstock.com)

The South China Sea is China's geopolitical axis.
China analyst Masaru Soma reports behind the scenes of China's leaders.
By looking into power balance, we can see where international politics is headed.
Masaru Souma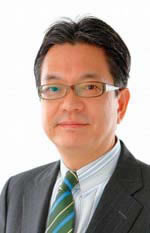 Masaru Soma was born in 1956 in Aomori Prefecture. After graduating with a degree in Chinese from Tokyo Foreign Studies University, he joined Sankei Newspaper, where he held positions including head of the Hong Kong branch and assistant director of the foreign news desk. As a Nieman fellow he spent 1998-1999 at Harvard University. He left Sankei Shimbun in 2010, and currently works as a journalist. He has published many books including "Chugoku Kyosanto Ni Kesareta Hitobito" (The People Who Disappeared From the Chinese Communist Party) and "Xi Jinping No Shotai" (The Real Xi Jinping), which he wrote under the pseudonym Kayasawa Izuru. Soma also wrote "Shin Kotei – Hu Jintao No Shotai" (The New Emperor – The Real Hu Jintao) – all published by Shogakukan.
People often go missing in China. Then months or even years later they suddenly reappear, but in a strange way. Television cameras capture them confessing their sins, and pouring out words of remorse with tears streaming down their faces. Then they appear in court as a defendant and, while the severity of their sentences vary, all of them – every single one of them – receive a "guilty" verdict.
The Film and TV Industry Shaken
Two individuals recently put under the spotlight were Chinese actress Fan Bingbing and Meng Hongwei, president of Interpol and Vice-Minister of Public Security of China.
Fan Bingbing's whereabouts became shrouded in mystery 6 months ago. According to witnesses she entered a famous fortuneteller's shop on the 20th floor of a shopping mall in Nanjing when police suddenly broke in, put a bag over her head and took her away. She was imprisoned in an accommodation facility at the Public Safety Bureau in Wuxi.
The state-owned Xinhua News Agency reported in October that, "tax authorities were investigating Ms. Fan for suspicion of tax evasion." Tax authorities declared an 880 million Yuan (USD127 million) bailout for Fan and an affiliated business. Fan posted on social media that she felt "regret for her actions" and that she will "accept any verdict after investigations conclude." She also requested her entertainment industry connections to "fully publicize my sin of tax evasion."
After this incident, state tax authorities announced a thorough tax investigation of the entertainment industry, demanding revised tax returns. Anyone who decides to pay outstanding taxes within the year will be pardoned.
Over 2 million party and military related authorities have been exposed in the 5 years since the Xi Jinping government began its battle against corruption. Fan's incident is a symbolic declaration that the anti-corruption web is extending into the entertainment industry. We are seeing glimpses of the coming Cultural Revolution.
Business Leaders Go Missing
The financial world is also part of the web. China's billionaires altogether own 100 billion Yuan (USD14.4 billion) worth of China's assets. Xiao Jianhua is one of the 9 top billionaire-businessmen, and in January last year he went missing from his suite at the Four Seasons Hotel in Hong Kong. In January this year, Ye Jianming, Chairman of CEFC China Energy also went missing, and no one has heard of this whereabouts. Wang Sanyun, former Communist Party Secretary of Gansu, was arrested after admitting to having received a bribe from Ye. It is obvious that Ye is being detained by Beijing authorities.
Real estate developer Guo Wengui, rumored to have a net worth of USD2 billion, now lives in New York having escaped from officials.
The world of finance is clearly also a target of Xi's anti-corruption campaign.
Pence's Harsh Criticism of China
The case of the former president of Interpol, Meng Hongwei, is an interesting one. Why? Because China made public the fact that a man responsible for fighting crime and heading the International Criminal Police Organization is being investigated for charges of corruption.
It is unprecedented for the president of a global organization to go missing and then turn out to have been detained in China undergoing investigations. Interpol has lost face, and China's unsophisticated actions have marred its image in the international community.
The Trump administration, now fighting a trade war against China, has been heaping criticism on Xi and his aides. It is not hard to imagine that Trump will eventually censure China for its inhumane abductions of Fan Bingbing and Meng Hongwei.
Vice President Mike Pence recently lashed out at China in his version of an "evil empire" speech.
Pence expressed discontent over China's huge trade surplus with the U.S. and lambasted China for pursuing military expansion in the South China Sea, using espionage to infiltrate U.S. military intelligence and conducting unlawful investigations such as the Fan and Meng cases. For the usually moderate Pence, his speech was unbelievably harsh.
The NY Times declared Pence's speech to be a "portent of [a] new Cold War." We can expect a fierce array of criticism between the U.S. and China, particularly in relation to the problem of human rights.
Key points in this article:
China extends anti-corruption web into the entertainment industry after an actress's tax evasion incident
This web already includes the world of finance, with many business leaders going missing
The U.S. will intensify its criticism of China's human rights problems