In May, Trump made clear his goal for resolving the unilateral trade situation with China: to cut the U.S. trade deficit against China by $200 billion by 2020.
This stance has been criticized in the media for disrupting free trade, but trade relations with China are more a matter of justice. For many years, China has been artificially lowering the Chinese Yuan for export advantages; and has been using the accumulated money to buyout foreign companies to 'steal' the latest technology.
China's aim is to utilize the latest technology for military purposes and defeat the world's most powerful country, the U.S., to eventually achieve global predominance. The final battleground will be in space.
Trump is now fighting concurrently in 5 battlegrounds to put a stop to China's dangerous ambitions: trade, technology, finance, space and ideology.
This article will look into the U.S.-China Cold War, which effectively began in May, and look at how Japan can choose to respond.
---
Trade, Technology
How China Steals
China is using lawful and unlawful means to obtain advanced technology from other countries.
Mergers and Tie-ups

China is creating mergers between Chinese and foreign companies to legally obtain foreign technology. One Australian shipbuilding company that entered the Chinese market was forced, by regulation, to employ Chinese engineers at the company's facility in China. As a result, the company's blueprints were leaked to the Chinese army, where they used them to build naval vessels.
Whether it is a merger or not, some foreign companies in China are ordered to share technology anyways. One known example is how they stole Japan's bullet train technology. China, however, claims it to be their uniquely developed technology, and has even applied for a worldwide patent.
Buying Out Businesses

China has plans to install the Electromagnetic Aircraft Launch System – same as the U.S. – in their China-made aircraft carriers. Building is expected to begin this year. The system uses electromagnets to launch heavier aircrafts with a smaller runway, thus extending their control-space of the air.
China attained this technology in 2008 when they bought a British semiconductor company. China buys foreign companies to obtain advanced technology that can upgrade their military. The major problem is that this is threatening America's military authority.
International Students and Research Partnerships

In 2008 the Beijing government implemented the Thousand Talents Plan: a system that rewards citizens who obtain a doctorate overseas by landing them high positions in domestic institutions and providing fellowship funds. Since then there have been around 44,000 international students and researchers who have returned from overseas study, which has culminated in over 24,000 new businesses.
Huawei Technologies, founded by an ex-People's Liberation Army officer, is engaged in research partnerships with universities in over 200 countries. Some U.S. Senators are pressing the need to inspect these partnerships in the U.S. to avoid research results from being leaked to Beijing.
Physical Stealing

After the U.S. semiconductor company Micron Technology turned down an acquisition offer from China, they attempted a daring heist to steal confidential designs for microchips. The stolen plans were taken to Taiwan, where they were bound for China – had police not intercepted in time. In other words, China will resort to outright physical stealing if buyout methods don't work.
Cyber Attacks

"There are two kinds of big companies in the United States. There are those who've been hacked by the Chinese and those who don't know they have been hacked by the Chinese."
So said James Comey when he was the director of the FBI. The cyber division of the People's Liberation Army holds over 100,000 servicemen. They are the attackers.
In February, China deployed their latest stealth fighter jet J-20, but more disconcerting is that it may have been based on the plans for the U.S. stealth fighter F35 which they stole via cyberattack.
China is estimated to be stealing between $225 billion and $600 billion worth of U.S. intellectual property and company secrets.
---
U.S. Counterattacks
The arrival of the Trump administration marked a major turnover for the U.S. Trump has decided to counterattack.
In August, the Department of Defense published a report warning that, "China's military modernization targets capabilities with the potential to degrade core U.S. operational and technological advantages. To support this modernization, China uses a variety of methods to acquire foreign military and dual use technologies, including targeted foreign direct investment [and] cyber theft."
If the situation is left unchecked it will continue to threaten U.S. authority, and implies the coming of a world where freedom and democracy are threatened on a global level. Senators aware of this danger have started shifting towards a bipartisan hardline stance against China.
Reinforcing Investment and Import Regulations
In August, the U.S. Congress passed a $716 billion defense policy bill and the Committee on Foreign Investment in the United States (CFIUS) reinforced regulations. If the CFIUS decides that a foreign investment in the U.S. poses a national risk, they can advise the president to block the incoming investment.
The policy newly includes real estate, important technology and infrastructure, and even inspects the leaking of private information. They will also stay alert for small investments.
The defense policy bill includes a revision of export controls on the export of technology, to prohibit illegal removal of the latest technology. The bill clearly targets China.
Espionage Prevention
"We have economic espionage investigations in all 50 states [that can be traced back to China]. It covers everything from corn seeds in Iowa to wind turbines in Massachusetts." So said FBI director Chris Wray.
Last year the FBI convened the Foreign Influence Task Force to investigate economics espionage activities in all 50 states. In June of this year the Department of State shortened the duration of visas for those planning to study in aviation, robotics and advanced manufacturing from 5 years to 1 year.
The U.S. has finally started their counterattack on China's methods for securing economics and military predominance as discussed above.
Same For Pro-China Germany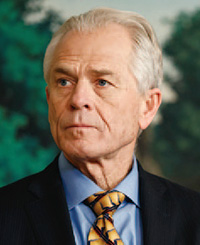 The National Trade Council published a report in July, headed by Peter Navarro. The report covered 50 methods China uses to steal intellectual property, and its combined effect as an economic strategy.
Even if the U.S. succeeds in countering China, it would mean nothing if China can continue stealing via the pro-China state of Germany.
China's investments in Germany have been exponentially increasing, mainly in aviation, robotics and advanced manufacturing: the areas covered in the "Made in China 2025" report.
The tide, however, has begun to change. China failed to buyout a German machine tool builder that owns manufacturing technology used in space shuttles. Germany has also started to step in line with the U.S. and Britain, announcing a plan to strengthen the Foreign Direct Investment screening procedures thus tightening regulations on foreign investment.
Germany has started to follow Trump's move towards prioritizing international safety. The overall scheme is to isolate China and cut her off from the global market.