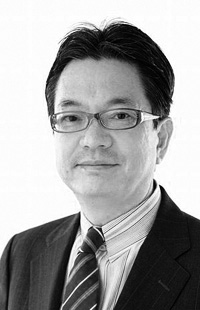 Masaru Souma
Masaru Soma was born in 1956 in Aomori Prefecture. After graduating with a degree in Chinese from Tokyo Foreign Studies University, he joined Sankei Newspaper, where he held positions including head of the Hong Kong branch and assistant director of the foreign news desk. As a Nieman fellow he spent 1998-1999 at Harvard University. He left Sankei Shimbun in 2010, and currently works as a journalist. He has published many books including "Chugoku Kyosanto Ni Kesareta Hitobito" (The People Who Disappeared From the Chinese Communist Party) and "Xi Jinping No Shotai" (The Real Xi Jinping), which he wrote under the pseudonym Kayasawa Izuru. Soma also wrote "Shin Kotei – Hu Jintao No Shotai" (The New Emperor – The Real Hu Jintao) – all published by Shogakukan.
When you walk the streets of cities in China, you immediately notice the large number of surveillance cameras set up in numerous places.
There are 170,000,000 surveillance cameras set up around China on lampposts and traffic lights, and in hotels, shops and restaurants. By 2020 the number will increase to 400,000,000.
When our journalists went to Shanghai last year, a local driver showed them how to get to a People's Liberation Army facility. The driver expressed his anxiety, saying: "If we drive around the same place many times, they'll get suspicious, record my number plate via the surveillance cameras, and even inspect my workplace. It's frightening. Let's move on quickly!"
Many of the cameras use AI facial recognition. Should the cameras fail to capture the vehicle number plate, it can still recognise each citizen's face. China is a complete surveillance society.
A Journalist Captured In 7 Minutes
The Beijing government has invested over USD1 billion in AI research companies to improve the facial recognition function. One of them is the Shanghai-based YITU Tech, whose products can recognise at least 2 billion faces in just a few seconds.
The 294 prefectural and city police around China each appropriated USD16 million for the facial recognition system using this technology.
When a BBC journalist interviewed police in Guiyang (Southwest China) in December 2017, he wanted to test the software and had the police input his facial data. He left the police station, but the AI system filtered through all of the 170,000,000 cameras around the country and found him. He was surrounded by police officers in just 7 minutes.
Expanding Data to Voice Recognition and Foreigners
The authorities have been expanding the data bank to include voice recognition. Human Rights Watch reported that most of the people in Xinjiang Uyghur Autonomous Region and Tibet Autonomous Region were forced to have their voice data taken.
What is most frightening is that the facial and voice data gathered is not confined to Chinese people, but also includes foreigners. Hotels are an easy place to gather data on foreign travellers. In other words, Chinese or foreign, the authorities can target any individual target and arrest them in a matter of minutes.
Another point is that, whether for work or leisure, anyone who enters China with a computer device must have it available for checking by authorities at any time. Otherwise it is confiscated.
By Chinese law, hard drives must not be passcode locked, so all information in the computer is left unguarded.
Some countries, such as the U.S. and U.K., even prohibit their diplomats from carrying computers when visiting China.
China is nothing less than a hard line 24-hour surveillance society.
China Falls From Grace
A widely recognized problem is China's tightening internet censorship. In January this year the state-owned Xinhua News Agency announced that within the last year they had blocked 128,000 websites deemed "harmful to society".
In the internet censorship report submitted to the Standing Committee of the National People's Congress on 24 December 2017, they claimed to have censored "pornography and terrorism-related information". In truth, they censored information on social and political problems that could threaten the stability of Communist rule.
The censorship includes websites, the social network, smartphone application downloads and live internet streaming.
According to Agence France-Presse, a Chinese man was given a 5-and-a-half-year sentence in Guanxi for allegedly selling computer software that could hack through the internet censorship.
"Xi has overseen a sweeping crackdown on civil society since assuming power almost five years ago, tightening the party's grip over the internet, media and security infrastructure, and locking up rights lawyers and dissidents," Reuters aptly summed up.
We can expect state control to continue increasing and it is only a matter of time before China, like North Korea, falls from grace. Japan's political and business circles must seriously revise their relations with China.