If one were to follow President Putin's words and actions, one can begin to see a picture different than what is being reported in Japan. Japanese media is prone to influence from the West, and rarely gets the Russian perspective. In the interest of truth, it is necessary to also listen to voices coming from outside the West without bias.
Had Putin Seen the Future of Ukraine?
On April 18th, Ryuho Okawa of Happy Science conjured forth the guardian spirit of Mr. Putin and asked what he was really thinking.
As mentioned in part 1, Russia tried to save Ukraine. The guardian spirit of Mr. Putin stated that he entered Crimea because "it was obvious that the result was going to be a prolonged civil war" in Ukraine.
Mr. Putin himself may have foreseen that broad outlines of what would happen to Ukraine if nothing was done.
In the spiritual message, Mr. Putin responded to the criticism from the West calling him a "dictator". He acknowledged that he is indeed a dictator saying, "A philosopher king is preferable to a democracy where nothing can be decided." He said that people can live in peace knowing a "good dictator" who knows how to make decisions is in charge.
Mr. Putin himself may not realize it, but the reason behind his popularity despite his autocratic approach may be due to his own deep desire to strive to become a philosopher king.
A Way to Resolve the "Takeshima and Senkaku Problems"
He also said some surprising comments concerning the issue of the northern territories. The guardian spirit of Mr. Putin mentioned that while the world thinks Russia had invaded Crimea, "if the four northern islands were all returned to Japan, then that is not what an invader would do," and "if they are returned, the 'Takeshima problem' and the 'Senkaku problem' would suddenly see progress". He revealed that this is one way to resolve Japan's territorial problems at once, and depending on how Japan makes its moves, suggested a way to resolve its predicament with the Senkaku and Takeshima problems. If Russia, who is thought to be an invader, returned the territories, this will make China and Korea look like the invaders.
Furthermore, Putin's spirit states that "I want to put pressure on North Korea and crush them" and "I mean to intervene on the issue of China's ethnic minorities", and thus showed a willingness to put a stop to the human rights violations in China and North Korea.
The guardian spirit of Mr. Putin also touched on the relationship between Russia, Japan, and the US in the context of China, as mentioned in part 4. If Russia cannot trade with the West or Japan, they will be forced to join China. He stated that, "It's not what we want, but we're being cornered into that direction." Furthermore, if Russia and China were to ally and engaged in a nuclear war with the U.S., Russia's immense arsenal of nuclear weapons means that "the US cannot be guaranteed a victory", he warned.
Even 2 months after this spiritual message, the U.S. continues its sanctions against Russia. Japan must find a way to mediate between the U.S. and Russia.
On America's hegemony, he said "America has failed as a world leader. I have had to use 'strong-arm tactics' but I am always thinking about the next move," and showed that he understood that the post-War world order is changing. He also revealed his hope in a stronger relationship with Japan saying, "I think Japan's moment will also come soon."
Coordinating with Putin's Regime Guarantees Japan's Safety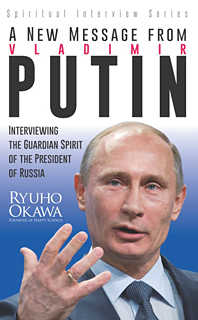 A NEW MESSAGE FROM VLADIMIR PUTIN
RYUHO OKAWA
IRH Press Co., Ltd.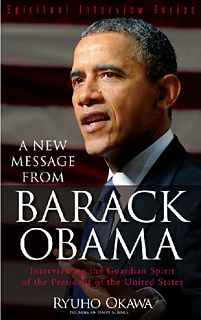 A NEW MESSAGE FROM BARACK OBAMA
RYUHO OKAWA
IRH Press Co., Ltd.
Mr. Putin's presidential term is until 2018, but if he is re-elected it would be extended until 2024. For Japan, which is exposed to the Chinese threat, coordinating with a long Putin regime guarantees its safety.
Of course, there are also problems with Russia. 160,000 people have died in Syria, and Russian actions in allowing Assad's regime to survive cannot be described as being just.
However, what Mr. Putin is working toward is to overthrow the post-War worldview that the only justice resides in the values of those nations that won the War, and to re-evaluate the post-War system that to this day views Japan and Germany as an "axis of evil".
Master Okawa had this to say after the spiritual message.
"It may be a mistake to one-sidedly take President Putin's side. We do not know if the dynamics of international politics will turn out the way he anticipates
As his guardian spirit tells us, allowing Russia and China to join together is akin to bringing back the Cold War structure. This is not a good thing.
Instead, I believe Japan must muster the courage to separate the two countries, and this must become Mr. Abe's new doctrine."
If Japan were to realize a new relationship with Russia, this will mean a departure from the diplomacy whose singular focus was to follow the United States, it would mean the destruction of the post-War system, and it will mean that Japan is evolving into a nation that is capable of taking on its rightful responsibility in the world.