Liberty staff asked Chairman Eiichi Yamaguchi of the Trans-Siberian Railroad Internationalization Committee, who is advancing Japanese -Russian exchange in a civilian capacity, about the possibilities of a Japan-Russia Entente.
Towards the Realization of an International Railway Connecting Japan and Russia
General Incorporated Association, Chairman of the Trans-Siberian Railway Internationalization Committee,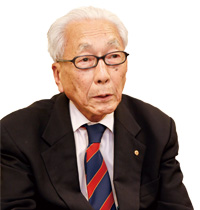 Eiichi Yamaguchi
Eiichi Yamaguchi was born in Tokyo in 1929. He graduated from Keio University's Department of Economics, and worked at the Ministry of Justice, Hitachi High Tech, and Ford Motors. He is currently an international development consultant, and a member of the International Production Engineering Academy of Russia. His work has included, "Russia's 'All-Out Far East Strategy'" (Published by Nikkan Kogyo Shimbun, Ltd.).
I produced an announcement for Tokyo Station's "Dream for the 21st Century," a vision of the international Siberian Railway in 1998. "An international train for London via Moscow will now be departing," was how I presented it with the departure bell ringing in the background,
After the war, I was involved in the development of the Tokaido Bullet Train and researched rare metals, where I came to focus on resource-rich Siberia. Today I am the Chairman of the Siberian Internationalization Committee.
Last year in Russia, a decision was made to build a bridge, slated to begin construction in 2016, to connect Eurasia to Sakhalin across the Strait of Tartary. My committee promotes private sector plans to connect Sakhalin and Hokkaido, such as the Trans-Siberian Railway, which I plan to extend to Honshu, Japan.
But such projects haven't been occurring just between Japan and Russia. In 2007, the G8 signed a joint declaration at an American-Russian railway planning conference that was held in Moscow, and they had the idea of connecting Alaska and Siberia across the Bering Strait. The sad thing was that I was the only attendee from Japan. This was in spite of the fact that the "Sakhalin-Japan" route was announced in the conference as one of its 3 most important projects.
Japan does not have enough press interest on Russia, and information gathering is limited. However, Russia is communicating with the governments of various nations to push such projects forward.
Most trains in Japan are passenger cars, but on the continent 80% are freight trains. When the rails connect Hokkaido and Sakhalin across the Strait of Tartary, and extend to the continent, cargo from Japan will reach Europe in half the time that shipments via boats require.
The Trans-Siberian Railway Will Open a Path to Resource Development
In addition to rare metals, underneath the Russian Far East is a vast wealth of other resources. These include not only oil and coal, but also copper and industrial diamonds, and one of the largest rare metal reserves in the world.
Energy resources have been a perennial concern for Japan. There has been a lot of room for cooperation between Japan and Russia, which people was recently in a joint project between a Japanese company and a local Russian company in Sakhalin to create a natural gas plant.
For Japan, it will be much more practical to procure natural gas and oil from Sibera than to transport the materials from America or the Middle East with large scale shipping costs and risks associated with the open sea lanes.
Many Russians admire Japanese technology. They understand how China and South Korea imitate Japanese technology, and they hope that Japanese companies will expand into Russia.
Collaborations between Japan and Russia contain a lot of
potential for the development of both countries. Toyota has recently expanded into Vladivostok, and people hope that smaller Japanese companies with high levels of technology will follow Toyota's move into Russia.
The Liberty Spoke to Takeyuki Tanaka, the author of "Actually, Russians Love Japanese", a Collection of Interviews with Russians Living in Japan, About How to Build Friendlier Relations with Russia.