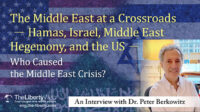 December 2, 2023
Dr. Peter Berkowitz In 2019-2021, Dr. Peter Berkowitz served as the Director of the State Department's Policy Planning Staff and senior adviser to Secretary of State Mike Pompeo. Since 2007, he...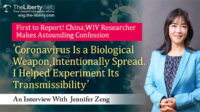 November 22, 2023
Even though the coronavirus pandemic continues to prolong, its origin is yet to be proven with modern science. However, new evidence has fallen in place that helps uncover its origins. S...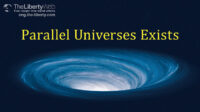 October 31, 2023
Parallel universes are often discussed together with time travel. A universe exists that is different from the one that we live in—many science fiction films have recently portrayed this idea, ...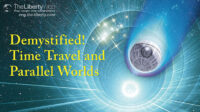 October 28, 2023
The Liberty delves deeper into the secrets of time and the universe than even the latest advancements in physics have yet to uncover. This is neither a fantasy nor a mere experimentation with s...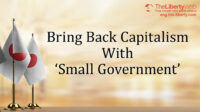 October 26, 2023
As Mr. Lingle said, if too much money is printed, prices will rise unless there is production commensurate with the amount of money produced. Under Abenomics, "extraordinary relaxation" was put...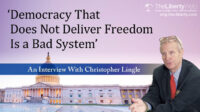 October 25, 2023
Pro-Japanese, libertarian member of the Austrian School of Economics expresses his view on the Japanese economy. We interviewed him on his predictions for Japan's economic recovery. Interviewer...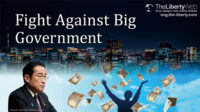 October 24, 2023
The Japanese government continues to get bigger. Any further postponement of this issue will induce huge damage. We search for an antidote to this problem. Food price hikes continued in ...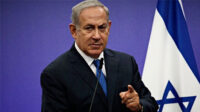 October 23, 2023
Contributor: Seiji Kawada Born in 1967 in Gifu, Japan. After graduating from the National Defense Academy of Japan, Kawada served as a pilot in the Japan Air Self-Defense Force (JASDF). Today, ...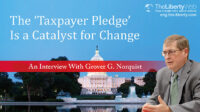 October 4, 2023
We spoke with Mr. Grover Norquist, an advocate for small government in America, on how to succeed in preventing government bodies from growing too large. Interviewer: Hanako Cho Grover G. Norqu...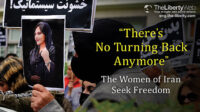 July 12, 2023
A protest that erupted after Mahsa Amini's death on Sept. 23, 2022, at the Embassy of Iran in Brussels, Belgium (Alexandros Michailidis / Shutterstock.com). (Image 1) Ms. Amini's photo that wen...