On June 4, 1989, Chinese troops used force against the youth who were demanding democracy in Tiananmen Square, China, resulting in many casualties. The student leader of that time continues to tell the truth.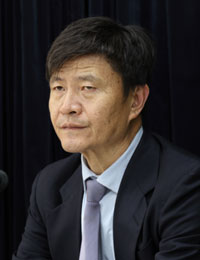 Former leader of the Tiananmen Square protests
Zhou Fengsuo
(profile)
While a student at Tsinghua University, he was a student leader in the pro-democracy movement at Tiananmen Square, he defected to the U.S. in 1995 and earned a Master's Degree from the University of Chicago. He worked in the financial industry from graduation until 2017, and founded the human rights organization, "Humanitarian China" in 2007.

It has been 34 years since the Tiananmen Square massacre by the Chinese military of many young people who sought democracy. The search for the truth surrounding this incident continues to this day.
Because those who lost their children in the armed repression are still seeking justice, but the Chinese government denies the massacre. That is why we must continue to tell the truth.
The Tiananmen Museum, which displays many important antiques from 34 years ago, opened in June in New York, USA. The museum symbolizes that the "fight for truth" has continued since 1989. Until 2020, the museum in Hong Kong served this purpose, but was closed due to the Covid pandemic and the introduction of the National Security Law.
The fact that we were able to rebuild in New York means that the fire of hope still continues. Since the pursuit of truth and dignity is human nature, I believe that the truth of 34 years ago will be passed on to the younger generation.
"The White Paper Revolution" Can Happen Again
Last year, when protests (the White Paper Revolution) took place throughout China, more and more Chinese people used VPNs (*) to obtain information from abroad. It is estimated that there are between 50 and 100 million VPN users in China.
Although China's internet censorship system is very strong, there are many things we can do in the internet space to influence the Chinese people. It might connect the Chinese people.
No matter how high the "censorship barrier" is, there must be connections among people. I believe that free information from abroad could drive important changes in China. Protest movements like the White Paper Revolution can happen again.
(*)A virtual private network (VPN) allows users to connect to the Internet via an overseas server. This makes it possible to access regulated sites from within China.