The Question:
Although I have been a homemaker, I just started to manage a small shop two weeks ago. I would like to become a genuine manager and help develop and prosper the Okinawa prefecture by revitalizing the tourist industry here. Please give me guidance.
At the Happy Science temple Okinawa-Shoshinkan in Okinawa prefecture on March 14, 2010 from Master's lecture titled "Confronting karma"
I would like to narrow down my answer into two points. What comes first is the manager's strong belief for "How I want to be a manager" and "How I want to build my store or company". At the starting point, a manager should have a strong belief and that will make the company grow. Strong belief is a must have.
The second point, and this applies to all the other industries, is that the fact everyone says that his/her company adopts a "Customer First" policy but, in reality, most of them are not doing it in a real sense. Although they say "Customer First" out loud, but in most of the cases, they are just pressing their position or idea to their customers, and this is the reason why the company is not so successful.
Please do not think "Customer First" as it states. You need to put yourself into your customer's shoes and reflect on how your customers view your shop or company, your current work and your company's work and its sales activities. You need to be able to sense how the customers are feeling when you're serving them.
If you maintain the above mentioned two points, when the companies are divided into two categories; the winners and the losers, fundamentally your shop/company will be sorted as a winner.
In a nutshell, you need to have a strong belief and passion that developing your work skills will contribute to the development of the world. The true meaning of a "Customer First" policy is to try to provide good service, products and selection of goods that reflect customers' wish. It seems easy but no one is really doing it in a real meaning.
You can say the same thing about the Happy Science organization. Even though Happy Science staff members are saying "Customer First", they are doing as they wish.
I mentioned to Happy Science members in Tokyo the other day, "It's easy to say that you are doing your job for everyone's happiness but please think hard if the customers feel that you are doing it for your organization."
Practice self-reflection and meditation to train yourself to put yourself in other person's shoe
The point is if you are truly doing your job for other people, in order to do that, you need to train your ability to put yourself in other person's shoes. In that case, it's very beneficial if you have been practicing some spiritual discipline such as self-reflection and meditation. You can utilize Okinawa Shoshinkan, the Happy Science temple, to go deeply into self-reflection and meditation. If you are a company manager, you can reflect deeply whether you really think about your customers or you are doing your job selfishly to gain profit to your company. Please make reflection a habit and "mind-read" what your customers really think.
If you make this your habit, you can completely differentiate your company from others and your company will be sorted as a winner.
When it comes to missionary work, most of the cases fail because you don't know what the other person is really thinking. You are just telling that person your thoughts and you have no idea what they think. Japanese people are "well-mannered" in a sense and they don't easily express their private opinions and take a public stance instead. They rarely say that they like you or hate you. I think it is important to read other people's minds deeply and say what they need to hear. If you can do that, your missionary work will be successful. However, if you miss the point and do as you wish, you cannot touch other person's heart. It is what it is. Please bear in your mind above points then you will be successful I think.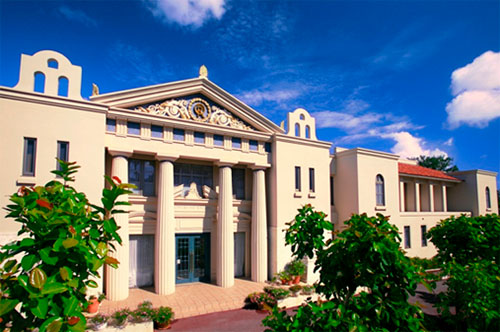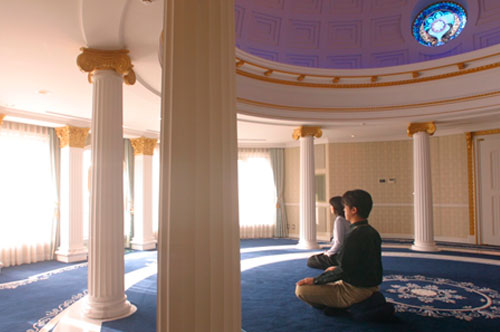 The Happy Science temple Okinawa-Shoshinkan in Okinawa prefecture, where this lecture was held.