(Photo: EQRoy / Shutterstock.com)

The South China Sea is China's geopolitical axis.
China analyst Masaru Soma reports behind the scenes of China's leaders.
By looking into power balance, we can see where international politics is headed.
Masaru Souma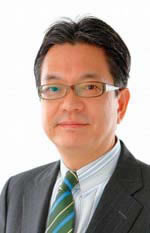 Masaru Soma was born in 1956 in Aomori Prefecture. After graduating with a degree in Chinese from Tokyo Foreign Studies University, he joined Sankei Newspaper, where he held positions including head of the Hong Kong branch and assistant director of the foreign news desk. As a Nieman fellow he spent 1998-1999 at Harvard University. He left Sankei Shimbun in 2010, and currently works as a journalist. He has published many books including "Chugoku Kyosanto Ni Kesareta Hitobito" (The People Who Disappeared From the Chinese Communist Party) and "Xi Jinping No Shotai" (The Real Xi Jinping), which he wrote under the pseudonym Kayasawa Izuru. Soma also wrote "Shin Kotei – Hu Jintao No Shotai" (The New Emperor – The Real Hu Jintao) – all published by Shogakukan.
Chinese President Xi Jinping is shifting towards a multi-track diplomacy. He has invited the Japanese Prime Minister for a visit to China in October, and has been meeting leaders from almost all regions around the globe except for the U.S.: Russia, the Korean Peninsula, Europe and Africa. His aim is to strengthen ties with each country so public opinion leans towards China after which they can approach the U.S. for a compromise to the long-term trade-war.
Bonding With Putin
On 12 September, during his visit to Vladivostok in Russia for the Eastern Economic Forum, Xi had a talk with Prime Minister Abe to reaffirm Abe's scheduled China visit.
It will be Abe's first visit since attending the APEC meeting at Beijing in November 2014. Relations were sour at the time due to the Senkaku islands dispute, and the talk ended in a mere 25 minutes.
This time in Russia both leaders were constantly beaming and agreed on many matters including a speedy resolution to the North Korean abduction incidents.
There was, however, a clear difference in enthusiasm between the leaders. When Xi made a reference to the U.S.-China relationship saying, "Japan and China must protect the free trade agreement at all costs," Abe replied in his characteristic vagueness, "China and Japan must maintain a secure communication of intentions."
Meanwhile Xi displayed his close relations with Putin – the host – by eating at his table and donning an apron to make blini, the Russian crepe. He aimed a remark at the Trump administration saying, "Russia and China oppose individualism and protectionist trade," which Putin followed up saying, "the world economy is in a crisis: the principle of competition has declined."
Allowing Liu Xiaobo's Wife To Exit
On 9 September, prior to attending the forum, Xi made a congratulatory message to North Korean leader Kim Jong-un for the 70th anniversary of the founding of North Korea. He thus confirmed their relationship:
This year I met with comrade chairman Kim three times and clearly charted our development direction of bilateral relations. I am willing to work hand in hand with comrade chairman to promote the China-DPRK relations for long-term, healthy and sound development so as to benefit both countries and both peoples and to boost regional peace and security.

Xi was scheduled to attend the ceremony for his first visit as paramount leader, but on his twitter account President Trump criticized China for applying pressures that are slowing down North Korea's denuclearization program. So Xi decided to cancel the trip in response.
Xi, however, sent Chairman of the Standing Committee, Li Zhanshu to attend the ceremony in his stead. Li is the third most powerful man in the Party and Xi's most trusted subordinate. Li met with Kim twice during his stay in Pyongyang and at the military parade Kim made a show of lifting Li's arms to the crowd thereby honoring Xi.
Additionally, in September after Xi's historic visits to five countries in the Middle Eats and Africa, Beijing held the Forum on China-Africa Cooperation (FOCAC) inviting representatives from over 50 countries. In trying to please Europe with their strong zeal for human rights, Xi also allowed Liu Xia (widow of the late Nobel Prize activist Liu Xiaobo) to exit China and enter Germany in July, to fulfill Chancellor Merkel's request.
Tightening Grips on Taiwan
China has also tightened he grip on Taiwan. In August the Republic of El Salvador severed relations with Taiwan and established diplomatic ties with China. El Salvador was the 5th country to do so since the inauguration of Tsai Ing-wen. It is a "severing domino" phenomenon happening under China's pressures, and this has lowered Taiwan's diplomatically tied countries down to 17.
This move is obviously a response to the strengthening U.S.-Taiwan relationship carried through by the Trump administration.
In March this year President Trump signed the Taiwan travel Act to encourage visits of bureaucrats and officials between the countries, and has made possible for Tsai to visit the U.S. and Trump to visit Taiwan. Joseph Wu, Taiwan's Minister of Foreign Affairs, says that more officials from the Trump administration have visited Taiwan than from any administration before.
China was no doubt alarmed also by the Trump administration's decision to sell $1.42 billion worth of military equipment to Taiwan.
As the trade-war is prolonging, China aims to trap the U.S. through multi-track diplomacy. Japan, being a U.S. ally, must make effective use of diplomacy in the areas of economy, trade and defense.
The next major opportunity will be Abe's visit to China in October to commemorate the 40th anniversary of the treaty of Peace and Friendship between Japan and the People's Republic of China.

Key points in this article:
Xi is meeting with leaders around the world, and that multi-track diplomacy will trap the U.S.
Trump's warning stopped Xi's visit to North Korea
China pressures Taiwan to trap the U.S.