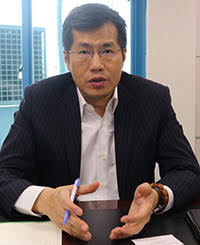 Lo Chih-cheng
Taiwanese politician, Legislator, Director for the Department of International Affairs, the Democratic Progressive Party (DPP). Associate professor of Political Science at Soochow University.
Last year Tsai Ing-wen (蔡英文) was elected as the president of Taiwan. This made big changes from the previous government. The former president Ma Ing-jong (馬英九) and his Chinese Nationalist Party government was relatively close to the Chinese Communist Party in China. Regarding the "One China" policy, there remains some controversy among the U.S., China and Taiwan. The following interview with Dr. Lo Chih-cheng (羅致政) will benefit us for a better understanding of these issues. He is in charge of international affairs for the ruling Democratic Progressive Party.
The Meaning of Peaceful Transition of Power
Interviewer: How did you see the change of government in Taiwan last year? It was a transition from the Chinese Nationalist Party (KMT or Kuomintang) to the Democratic Progressive Party (DPP).
Lo: This is the third time we had a peaceful transition of power from one party to another. In 2000, we had a transition from the KMT to the DPP. In 2008, we had the DPP to the KMT. Now we are coming back to power. So, this is further evidence of consolidation of democracy in Taiwan. In other words, democracy is the rule of the game. That is, whoever is in power has to respect the will of the people. That's very important. That makes a big difference between Taiwan, the People's Republic of China (PRC), and Hong Kong as well. Democracy is a very important mechanism for making policies in Taiwan, such as the Cross Strait policy, foreign policies or even defence policies. When it comes to the future of Taiwan, everybody including the leaders in parties will have to respect the will of the people. Taiwan now has a mature, consolidated democracy.
Secondly, we are in absolute control of the government. Last time, the DPP administration did not control the majority in the legislature. This time, we control the Executive Branch and also the Legislative Branch. So in general, we can get things done all by ourselves.
Thirdly, there is a difference between the first time in power and the second time. For the past eight years from 2008 to 2016, the KMT was in power and created a situation that was quite unique from the previous DPP administration. Taiwan had become very dependent on China, economically, politically and even militarily. That's a new situation.
When Chen Shui-bian (陳水扁) was in power, the interaction between Taiwan and China was very limited in general. We didn't have that kind of dependency. As a matter of fact, when the Lee Teng-hui (李登輝) administration was in power, their policy was "no haste, be patient, go slow". But when Ma Ying-jeou (馬英九) was in power, they very much depended on China. That puts our DPP administration in a much more difficult situation, because we hadn't reversed this kind of dependency on China. That's quite a different situation. We should not depend too much on China.
Mr. Lee, a NGO Activist Caught in China
Interviewer: Regarding China, there was an incident in March where Mr. Lee Ming-cheh (李哲明), a human rights activist, disappeared in China. He was also known as a former DPP worker.
Lo: Unfortunately Mr. Lee, a NGO activist, has been caught in China. So far, we have very limited information about his whereabouts and situation. This is further evidence that China is not a democratic country and not under the rule of law. More importantly, that will damage the mutual trust between Taiwan and China. Some Western media – the U.S. media and the European media – covered the story. I don't know how much coverage you have in Japan.
Interviewer: I think there are very few.
Lo: I don't think that kind of thing just happened to Taiwan. It happened to Hong Kong. That could also happen to other countries. I don't think it's an isolated case only for the Taiwanese people to pay attention to. It's an incident that everybody living in free democratic countries should pay close attention to. In the past, when the DPP was in power, there was a direct hot line between our government and the counterparts in China. But when this was took place, the hot line was cut off. So, there was no direct contact. The very purpose of having the hot line is that when there was an incident, we could connect ourselves to solve the problem. But the opposite is happening. That's an unfortunate development.
The U.S-Taiwan Relation in the Trump Administration
Interviewer: What is your view on U.S-Taiwan relations? Last December, the Taiwanese President Tsai Ing-wen had a phone call with Trump. That was a surprising move.
Lo: First of all, the direct phone call that happened last December was between President Tsai and President-elect Trump. That was a very unique development. After President Trump was sworn in, that kind of phone call with a direct hot line did not happen again. We know the situation is quite tough and Trump needs cooperation from China, so they want to play down the importance of this kind of direct hot line between our president and her counterpart in the United States. Having said that, our direct contacts between our representatives and his counterparts in the United States are very direct and personal. We do have a very solid, robust relationship between Taiwan and the United States.
Interviewer: In June, the Trump Administration approved a 1 billion dollar arms sale to Taiwan.
Lo: The arms sale package is a very good case in point. We welcome the arms sale to Taiwan. That's a very important decision. The timing of the decision was very important, because there were rumours about the U.S. Navy postponing it. According to the reports, the U.S. had concerns about a possible reaction from China. I think obviously, the U.S. cared too much about any possible negative response from China. As a matter of fact, after the announcement of the arms sale package, China did not react too strongly about it. So, we hope this deal can be implemented very smoothly. More importantly, we hope that our defence cooperation can be further enhanced.
The U.S. Congress has passed several resolutions. For instance, the National Defence Authorization Act (NDAA), encouraged the interaction between our high-level defence officials and their counterparts in the United States. So, that's a good development. That's also up to the administration to decide how to implement the NDAA. Let's just wait and see. When it comes to the relationship with the United States, it takes two to tango. Our goal is to increase interactions between the two countries – to enhance our ties. But it is also up to the United States to respond to our requests.
There are two general questions about the future of the U.S. policy towards Taiwan in particular and to Asia in general. We don't know who's in charge and what Trump's doctrine is. The people in charge change very quickly. They just changed the Chief of Staff. Who's in charge of the East Asian policy? We don't know. When it comes to daily operations, we need someone in charge in that particular position.
The Differences of the "One China" Policy Between the U.S and China
Interviewer: After conversation between Tsai and Trump, the "One China" policy became controversial again. There are different views between the U.S and China.
Lo: There's a big difference between the "One China" policy and the "One China" principle. China insists on the so-called "One China" principle. According to that principle, Taiwan's a part of the PRC. That's something we can't accept. The U.S. "One China" policy has some ambiguities. There's some room for developing the idea that Taiwan is an independent country. The very reason that the U.S. can maintain military ties with Taiwan is because of this One China policy. It is somewhat ambiguous.
At some point in time, according to President Trump, the so-called One China policy isn't negotiable. If that's the case, we do have concerns about that. So, Taiwan doesn't want to be bound by the One China policy. Taiwan wants to be separated from these interactions between the two big powers. We hope to develop a very solid, robust relationship between Taiwan and the U.S. regardless of what happened between the U.S. and China. But obviously China always wants to bring Taiwan into the dialogues between the U.S. and China.
Interviewer: On a January article for The Wall Street Journal, John Bolton, the former U.S. ambassador to the U.N., advocated that the U.S. army should station in Taiwan.
Lo: When John Bolton said that, he was not in the government. He said that because he was a scholar who had freedom of speech. He's a very good friend of Taiwan. He has been very supportive of Taiwan. So, we appreciate those kinds of comments. But when it comes to actual policies, I don't think that kind of policy is feasible in the near future. Of course, there were rumours last year that he may be joining the government. At the end of the day, we haven't seen that yet.
Rising China's Strategy Against Taiwan
Interviewer: Last year there was another incident. Chinese fighter jets circled Taiwan.
Lo: China is becoming stronger economically and militarily. China would definitely show their muscles to their neighbouring countries that they are stronger. Sending their aircraft carriers and their fighter jets to circle Taiwan is evidence to show that they can kick Taiwan into orbit. They don't want Taiwan to lead the way from their sphere of influence.
Secondly, if there's a military crisis in the Taiwan Strait, Taiwan is always hoping that we can sustain our survivability until other countries, especially the United States, come to our assistance. The China's strategy is the Anti-Access Area-Denial (A2/AD). Circling Taiwan is the way to show that they have the A2/AD capabilities. That's reasonable.
Thirdly, the Taiwan Strait is an international waters for freedom of navigation for all the ships. But to send aircraft carriers and fighter jets to circle Taiwan is the way the Chinese are hoping to show the world that the Taiwan Strait is in their sea and that it's not international waters. It is a symbolic and political gesture.
Finally, it's one way to substantiate their One China policy or One China principle. Taiwan will never accept the so-called One China principle. But China wants to show the world that there's de facto One China principle, "Taiwan is a part of China" and "It is under our control". Although it is very symbolic, it's quite important for China.
The Disputed Island in the South China Sea
Interviewer: Last year, the Taiping Island in the South China Sea was disputed at the International Tribunal court of the United Nations Convention on the Law of the Sea. After its ruling denied Taiwan's claim, you paid a visit. Could you give us tips on how to defend territorial rights?
Lo: It's quite easy because we already control the island. We have controlled it for decades. We sent our marine guards. We continuously occupy and control it. There's no way that other countries can ignore our actual occupation and control of it. There's no way that we need to prove further that we have the territorial rights on the Taiping Island.
But when it comes to other islands, we claim that issues should be settled in a very peaceful way. We don't want to use force to solve the problem. So, we are urging all the neighbouring claimant countries that we should put aside our differences. But unfortunately, when China and other claimant countries talk about the Code of Conduct in South China Sea, Taiwan has not been invited although we occupy the biggest island in the area. Taiwan is not even consulted about the issue. That's a very unfortunate development, because Taiwan is a very important claimant of those disputed islands.
Disappearing Freedom in Hong Kong
Interviewer: What do you think of the situation in Hong Kong on the human rights issue? In July, the memorial event was held there.
Lo: When Beijing introduced the "One Country, Two Systems", the goal was to make it appeal to the people in Taiwan. It's the very reason that China used Hong Kong as a model for Taiwan. When China began to realize there was no use of using the Hong Kong model, then the importance of Hong Kong started disappearing. That's why Beijing is tightening their control there for freedom of the press, freedom of association and so on. That's why they began to wage some of the demonstrations on the streets.
A lot of people learned what happened in Taiwan for the past few decades. You start with the opposition movement and the opposition party. Then, you have this kind of democratic transition of power. Hong Kong is quite different. It is already controlled by China. It is a part of China. There's not much room that can be negotiated about the future of Hong Kong. That's why there are more and more Hong Kong people immigrating to Taiwan. They can enjoy much more freedom and democracy in Taiwan.
Japan and Taiwan Share Common Interests
Interviewer: What do you think the Japan-Taiwan relation should be like? The Japanese government has not recognized Taiwan as a nation.
Lo: On the bilateral relation between Taiwan and Japan, we have to start with the discussion about the nature of our relationship. I have to say that Taiwan and Japan are natural partners. We are facing many similar challenges. We have many common interests. For instance, Taiwan and Japan are both democracies. We share some of the philosophies behind our democracies, human rights, freedom, free market economy, etc. So, the two nations share some universal values. That's a very important foundation for our bilateral relationship.
Secondly, there is a historical connection between Taiwan and Japan. We were under the colonial rule of Japan for fifty years, but there are some legacies of this kind of historical connection, for better or for worse. Especially for the older generations, people feel connected to Japan when something happens. For instance, when the tsunami and the earthquake happened in Japan, Taiwanese mobilized themselves to give some support to their Japanese friends. When asked which is the most friendly country to the Taiwanese, Japan is the number one country. The same thing can be said about the Japanese. So, we have this kind of strong people to people connection.
Both Japan and Taiwan are facing a rising China. I'm not saying that China is a threat already, but China's increase in power in the region has put pressures on both of them. Japan and Taiwan cannot fight against the rising China by themselves. We need cooperation and coordination between the two countries in the face of the rising China. That's very important. We have come up with a strategic interest. Having said that, we know there are some political obstacles, difficulties that we need to overcome to fully enhance our relationship.
Japan doesn't recognize Taiwan as a sovereign country in all the difficulties, in all the impossibilities. Short of this formal diplomatic recognition, there are so many things that can be done. In other words, why don't we try our best to enhance our de facto ties between the two countries? For instance, military cooperation between the two sides. We probably can't come to the point of a direct, joint military exercise. There is no way for now. Some sort of dialogue between our two militaries should be feasible. Probably not in public, but at least in private. As you know, Taiwan and the United States have all levels of dialogue. Starting from strategic dialogue, defence dialogue, arms sale dialogue or people to people, and military to military on a daily basis.
We don't have that kind of thing between Taiwan and Japan. For us, we have no reservation about having this kind of dialogue. It is Japan that is more reluctant or more reserved about having this kind of dialogue. Of course, you would be under a lot of pressure from China. However, it's about common national interests. We have overlapped national interests. So, if that is the right thing to do, we should do it. We can start with the engagement of dialogues between the two governments and the two militaries. It will require a very strong political will to do it. We do have the political will to do it. We know there's subtlety of doing these kinds of things. We need substantial cooperation between the two countries. We should get the things done in a more substantial way.
How to Deal with North Korea
Interviewer: My last question is on North Korea. Kim Jong-un is continuously launching ICBMs especially in recent months.
Lo: First of all, we welcome Japan to play a more proactive role in the regional security issues. Secondly, we welcome the enhancement of the relationship between the U.S. and Japan. We welcome Japan being proactive in many regional issues. As you know, China has always been very proactive in setting some agendas in the region. In the past, you had several Six-Party Talks to solve the North Korea nuclear issue. But now they have gone.
I think the Trump administration has a very naive expectation from China to help them to solve the North Korean issue. Personally, I don't think China is sincere in helping other countries such as Japan, South Korea and the U.S., because North Korea is China's bargaining chip. What China really wants is to contain the situation. They don't want the escalation of crisis, but I don't think they will help us to solve the problem. North Korea is a troublemaker. However, once the problem is solved, China will not have this bargaining chip.
Interviewer: What do you think our next move should be?
Lo: Japan, South Korea, the U.S. and Taiwan should intensify their dialogues to come up with a coordinated strategy towards North Korea. North Korea's and China's policy is always the "divide and defeat" strategy – "divide and conquer" strategy. They want to divide the alliance countries, Japan, South Korea and the U.S. That will give them room for manoeuvring. If they can come up with an orchestrated, coordinated policy and work together with a unified position, then I don't think North Korea can have anything to play with.
But that's not happening now. Trump is talking to China directly, bypassing Japan and South Korea. Trump did not consult its allies before then. They think China is the only country that can help the U.S. solve the problem. I don't think that's the case. The U.S., Japan and South Korea should come up with a coordinated policy in a unified position. That is the only way you can counter them.
Interviewer: Thanks so much for the interview.