Interview

In this very special interview with retired U.S. Navy Admiral Timothy J. Keating, graduate of the United States Naval Academy, former commander of Carrier Group Five, the U.S. 5th Fleet, the U.S. Northern Command and NORAD, and the U.S. Pacific Command, we discuss the current crisis in North Korea, what this looks like for the United States and Asia, the potential response of China, the UN Sanctions and hope for a peaceful resolution. Admiral Keating's insights are penetrating and thoughtful and provide hope amid this turbulence. The timing of this interview could not be more appropriate, and important.
Interviewer: Satoshi Nishihata
The Importance of Sanctions
Timothy J. Keating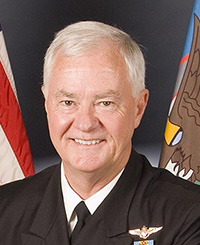 Interviewer: The United Nations Security Council unanimously passed the toughest-ever economic sanctions against North Korea. Do you think the sanctions are effective?
Timothy J. Keating (hereinafter referred to as Keating): I'm glad, and I think it's worthwhile, and a reason for some optimism is that these were United Nations sanctions, not just United States or Japan or South Korean sanctions. And both Russia and China, I believe, voted to enforce to support those sanctions. So those are all good signs.
Now as we know in the past, North Korea has been able to continue despite some fairly consecutive sanctions, though those sanctions have undoubtedly had some effect. Sanctions are one element of a multifaceted diplomatic strategy to bring North Korea to their senses. So, I am optimistic, though not certain, that the sanctions will be helpful.
The Possibilities of Military Options for North Korea
Interviewer: How do you see the rapidly evolving tensions between the United States and North Korea, and the possibility of the military options?
Keating: This is a tenser, and a more interesting time than I remember. Now I've been away from the Pacific Command for, I think, seven years now. But even while I was there we watched very, very carefully with our friends in Japan and South Korea and with our colleagues in China as well. This is a little bit different situation and a more demanding situation shall I say.
Now your question says, "How about military options?" We of course, and when I say "we", I mean the United States, Japan, South Korea, and other allies and friends all through the Indo-Pacific region. We can conduct a wide range of military options when we're directed. We have rehearsed them as you know. We had a plan for various options for many years. And so, if the President or the Prime Minister were to say, "Get ready to go," our forces will be ready very shortly. And now I think that unlikely. I hope it's unlikely. But our forces are ready.
The Question Mark of Guam
Interviewer: It seems surprising that North Korea's planning against Guam is very concrete because it has a definite schedule. What do you think it means?
Kim's Unpredictability
Keating: Well, several things about Kim Jong-un and his forces. They say one thing but don't always do what they say they're going to do. I think he is very unpredictable and erratic. And so his statements about, "We're going to shoot four missiles to Guam", or "We have the ability to turn Seoul into a sea of fire," and all those fairly inflammatory statements, I don't put much credibility in them.
Interviewer: So do you think it's just a threat from Kim Jong-un?
Keating: Well, I think it's a threat, but we have to be prepared in case it's not. Or while he may not do exactly what he said, he may do something similar. And so, as I mentioned in our discussion a couple of months ago, we, the big "We", we're ready for any and all options. But I don't put a whole lot of credibility in a particular statement of his.
Can South Korea Survive the Cataclysm of War with North Korea?
Interviewer: Do you think there is any effective strategy to reduce expected damage on South Korea on the occasion of a war with North Korea?
Keating: I think it's a significant concern. This is common knowledge that North Korea has a large number of conventional weapons, which they can use very quickly to range Seoul. They have a relatively large stock pile of non-conventional weapons – chemical and biological, which they would perhaps be able to use, I don't know for sure, but perhaps. And their nuclear capabilities are unknown, but are a factor in our planning.
So, it is a certain element in our discussions with Japan, with South Korea, and again with China, on a different level of course with China. But we are aware of North Korea's capabilities in form of artillery, in some very small submarines, and their air forces. And we are prepared to take measures against them if we have to. We don't want to, but if we must, we will.
Interviewer: Okay, so at the moment there are not so many certain effective ways to reduce damage on South Korea. The estimated casualties are said to be a million people.
Repercussions for North Korea
Keating: It would be horrible if North Korea would decide, heaven forbid, but if they were to decide to launch all of the surface to surface artillery weapons that they could, it would be a disaster. And we hope and pray that they do not. But it is a possibility for which we have to plan and that is one of the things we … one of the factors we use in considering options, should military options, should we be required to. And we're ready to do that.
Interviewer: The US Secretary of Defense, James Mattis warned on Wednesday about North Korea and the end of its regime and destruction of its people. So, what does that mean?
Keating: Well, if KJU were to launch some sort of military operation against US forces in South Korea, or in South Korea, or against the Japanese, we would … the orders of our President, and in coordination with our allies, we are prepared to level, to inflict a terrific destruction on Pyongyang and on Kim Jung-un. And he has to understand that if he decides to conduct military operations he has to accept the consequences, and the consequences would be very grave in North Korea.
Why the Positional Differences Between the Secretaries of State and Defense?
Interviewer: What about the statement of Mr. Tillerson? He argued, "We do not seek a regime change, we are not enemy."
Keating: Well, remember he's the Secretary of States and Minister of Foreign Affairs, and it would be … we are hoping – it has been the case for decades – that diplomatic efforts will prevail in restraining North Korea and hopefully Harry Harris, the Commander of the Pacific Command that you know, he has a very good way of saying it. "We hope to bring North Korea to their senses, not to their knees."
And we, through our diplomatic efforts, all of us hope to bring Kim Jong-un to his senses and have him realize he cannot afford to conduct any of the operations that he mentions in his media statements. We hope that he does not do that.
Can We Trust China to Deter North Korea?
Interviewer: Okay. A further issue is about China. Based on your experience as a PACOM Commander, when you had some contacts with the People's Lereal Army, how much can we trust China's effort to deter North Korea?
Keating: Well, I would say, "Yes, we can trust China." And we hope China exercises all of their influence over North Korea. Because they have more influence than others do. And the Chinese can appreciate the awful consequences of military activity on the peninsula. I'm sure the Secretary of State Tillerson, President Trump, Prime Minister Abe, and many others, including Harry Harris, are discussing with their Chinese counterparts the possible roles all of our countries can play in curtailing North Korean military activity. I'm sure that that's going on. I'm confident.
Advice for President Trump
Interviewer: Do you have any advice to President Trump? He's been very frustrated with China's attitude.
Keating: He's getting plenty of very good advice from Admiral Harris and from Secretary Mattis and Secretary Tillerson. They're very smart men. I know them. Mattis and Harris are old friends from like the time that he's won. And the advice they're giving President Trump is, I'm sure, very solid, very good.
The Need for China's Support
Interviewer: China said it will be neutral if North Korea attacks first. But if the United States conducted a preemptive attack, they said they will be on the North Korean's side.
Keating: Well, I would be careful there. I can't discuss future operations of course. If the President says to the US forces to conduct a preemptive strike, they will whether or not China is, as you say, on our side or on North Korea's side. Actually, the President might take that into consideration, but it will not be the deciding factor of his decision I would assume. So we would hope that any efforts to reduce the threat would include China's support.
The Role of Japan and the Nuclear Quagmire
Interviewer: About the role of Japan, do you have any advice or message to Prime Minister Abe and the Japanese people? We would appreciate your opinion or view.
Keating: Sure. I had the privilege of meeting Prime Minister Abe on several occasions. I have great respect for him and the JSDF. Prime Minister Abe and his forces, I'm sure, have discussed and planned on various kinds of operations in support of the US led effort. I'm very confident that Kōkū Jieitai, Japanese Air Force, Japanese Army, Japanese Coast Guard will be well prepared, well equipped to respond to directions from Prime Minister Abe.
And as with President Trump, he has plenty of good advice from his Minister of Defense and his Chief of Defense staff. And I'm sure that they're ready to go.
Japan at the Epicenter of a Nuclear Circle
Interviewer: There is a very nuanced issue about nuclear options in Japan, and there has been a lot of discussions. Do you have any opinion about the possibility of nuclear armed Japan regarding the fact that Japan is surrounded by nuclear armed countries?
Keating: Well, as you say, a very sensitive issue. It would not be proper for me to give an opinion on a very important discussion for Prime Minister Abe and the people of Japan. So I hope that I know they will. My wife and I lived in Yokosuka for almost three years and we spent much time in Japan while we were in the Pacific Command. I'm utterly confident that the Japanese leadership self-defense forces will make the right decisions.
I remain vitally interested in the Western Pacific. We made great friendships while we were in Japan. My wife loves them to this day. When we left Japan we said we had to physically get on the plane and go, but we left our hearts in the Kanto Plain, she says. We have very good friends in Japan and the spirit of friendship between our two countries is very important.
Interviewer: So we are very lucky we had you as PACOM commander at that time.
Keating: It was our great privilege.
Interviewer: Thank you for giving us your opinion and views.
(The end of interview)