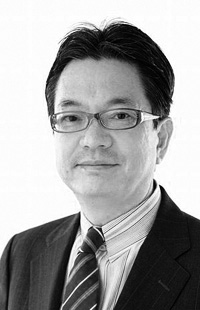 Masaru Souma
Masaru Soma was born in 1956 in Aomori Prefecture. After graduating with a degree in Chinese from Tokyo Foreign Studies University, he joined Sankei Newspaper, where he held positions including head of the Hong Kong branch and assistant director of the foreign news desk. As a Nieman fellow he spent 1998-1999 at Harvard University. He left Sankei Shimbun in 2010, and currently works as a journalist. He has published many books including "Chugoku Kyosanto Ni Kesareta Hitobito" (The People Who Disappeared From the Chinese Communist Party) and "Xi Jinping No Shotai" (The Real Xi Jinping), which he wrote under the pseudonym Kayasawa Izuru. Soma also wrote "Shin Kotei – Hu Jintao No Shotai" (The New Emperor – The Real Hu Jintao) – all published by Shogakukan.
The South China Sea is central to China's politics, and reading into the power shifts can give greater insight into the future of world politics.
"This year, while facing many obstacles within and without our nation, we enjoyed moderate economic and social progress under guidance from the Central Committee of the Communist Party of China led by Xi Jinping"
Thus spoke Premier Li Keqiang in his "Government Activities Report" at the National People's Congress held in March. In his 100-minute speech, Li used the description "Central Committee of the Communist Party of China led by Xi Jinping" a total of 6 times.
Li is the leader of the Communist Youth League faction that is in odds with Xi's Party's Crown Princes group. People who know the situation go as far as to say they fight like cats and dogs.
But this time, he has suddenly turned up at the National People's Congress apparently trying to close their distance. Indeed after his speech, Li was seen having a friendly conversation with a beaming Xi. Reporters had the impression that their sour relations had improved.
"This scene reveals that Xi's power in the Communist Party is increasing", a Beijing official commented. "If Li resists it can put his premiership in danger. Xi is steadily working towards becoming the sole authority by the 19th National People's Congress."
Weak China Economy
It is true that Li was paying lip service to Xi in his speech, but he was also making sharp remarks on the difficulties China is now facing.
First, he announced he wished to target a 6.5% economic growth rate this year. China has been lowering their goal for three consecutive years, and this year's goal is the lowest they have set since 1992. For the last 6 years, China's real growth rate has consistently declined, and has hit a record low since 1990.
More specifically, their total trade kept dropping between 2014 and 2016, and the 2016 USD based import/export failed to reach the previous year's standard. In contrast, their trade surplus with the U.S. far exceeds the standard (US$250 billion for 2016), and further friction in trade relations can be expected.
Additionally, direct investments in China from overseas dropped 7% in 2016, failing to meet the previous year's standard for the first time in 4 years. Clearly, overseas investors are pulling out of China.
On the other hand, China's 2016 capital outflow exceeded its previous year by 60% at US$300 billion. Their foreign currency reserve amounts to US$3 trillion.
Their last resort is the expansion of domestic demand of its 1.3 billion people. But judging by the tax cuts for production and smaller business industries totaling 350 billion Yuan (US$50 billion), and infrastructure investments in an attempt to shore up the economic condition, their fiscal deficit is expected to increase by 200 billion Yuan (US$ 29 billion).
Military Expenses Over 1 Billion Yuan
But while the economy suffers poor conditions, China's military expenses increased by 7% in 2016 amounting to 1.44 billion Yuan. Ironically its increase is greater than the economic growth rate. The numbers provide an undeniable proof of China's military expansion and their ambitions.
Xi has no choice but to strengthen his army as military friction is increasing between China and the U.S. due to the People's Liberation Army building military bases on islands in the South China Sea.
The Trump administration also plans to raise its military budget next year by 10%. It appears likely that there is going to be a U.S.-China military clash.
And another force adding to the instability of the situation is Hong Kong's move away from China — their retaliation against China being courageously fought primarily by their youth. In his speech Premier Li said, "We support the 'One Country Two Systems' that calls for the people of Hong Kong to rule Hong Kong, and the people of Macau to rule Macau" but contradicted his claim by adding that, "there is no future for Hong Kong".
Until now the Government Activities Report at the National People's Congress has steered clear of the words 'Hong Kong independence', proving how wary of it the Beijing government is.
Li also said, "We are in marked opposition to Taiwan's independence and "splitist" activities, and we will continue to suppress them." His unease with Taiwanese President Tsai Ing-wen is unmistakable.
Responsibility Problems If It Backfires
In addition to the Trump administration, another external instability factor is how North Korea will decide to move. We can expect great turmoil in the Korean Peninsula triggered by the dismissal of South Korean President Park Guen-hye. Their relations with Japan show no sign of improvement, and in fact they now have to be cautious of a possible U.S.-Japan encirclement network.
In stark contrast to Xi Jinping's prospective rise as China's sole authority, difficulties continue to haunt them from abroad and at home. One wrong move and Xi's dictatorship can backfire, costing him a Sisyphean flood of responsibilities.

Key points in this article:
Noticeable decline in China's economy: lowering growth rate target for 3 consecutive years.
In contrast, their military expenses exceed 1 billion Yuan, to reveal quantitative proof of military expansion.
One wrong move could cost sole authority Xi a daunting flood of responsibilities.