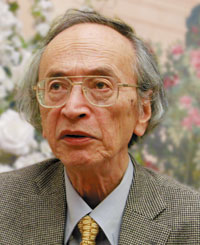 Born 1946, in Ishikawa prefecture. Entered Waseda University but left before obtaining a degree. After having worked as a publication editor, he became a critic in the press in 1983. Since, he has established himself as a renowned critic and reporter behind-the-scenes, working in political science and economics, and is known for his unique information gathering and analyses. As a China watcher, he has travelled through all 33 provincial regions of China on foot. He has written many books concerning Asia and world politics, with a May 2015 publication based on the Asia Infrastructure Investment Bank (AIIB).
For China, the AIIB is one step toward their dream. This dream is to turn the Chinese Yuan into a reserve currency to attain financial domination. Of course, they are also striving for military dominance; but since a powerful military requires a powerful economy, the two cannot be separated.
Infrastructure Investment Places China At An Advantage
Along with the BRICS Bank and the Silk Road Foundation, the AIIB is a system that allows infrastructure investments, which is advantageous to China. China will use these 3 systems to speed up the construction of ports (the silk road of the sea), and railways (the silk road over land) that they have been pursuing in various places around the globe. Through these, China wants to create a commercial empire.
Off the coast of Myanmar, there is an uninhabited island where China has built a military surveillance facility, and a Chinese submarine has made a port call at Hambantota in Sri Lanka. In the port at Gwadar, China has already built 2 wharfs, and Chinese companies have also commenced construction at a port in Greece.
For the Silk Road by land, there is a plan to construct railways in Central Asia in countries such as Kazakhstan, Uzbekistan and Turkmenistan. They are planning to connect these railways to Moscow.
China's infrastructure constructions, however, are appalling.
While they have commenced construction of a canal through Nicaragua, there is widespread opposition in the local communities.
When they built the Three Gorges Dam in China, over 60% of the fish that inhabited the area upstream were wiped out. There have also been reports of fissures and subsidence in the ground under the dam. In addition they cut corners in the construction process, running the risk of the dam bursting in the future. There is even rumored to be an evacuation plan for the 800,000 people living downstream.
This sort of failure is present also in Africa, where China has entered looking for farmland and natural resources. Angola, a country in the southern parts of the African, once welcomed the Chinese. However, once Angola was capable of developing their own deep-sea oil fields, they began to keep their distance from China.
The AIIB, however, is different as it is not run exclusive by China. Even if Chinese companies were to receive orders for infrastructure development, they will be called to show that their plans are transparent and safe, and that the investment can be repaid.
Japan should opt out of the AIIB
The Asian Development Bank backed by Japan and the International Monetary Fund (IMF) have received criticisms from developing nations for the slowness of their decision-making process. There is indeed a need to reform the ADB and IMF bureaucracies.
Some are urging Japan to 'catch the bus on time' and join the AIIB. This bus, however, driven by the Communist Party of China, is extremely dangerous.
Even if this Bank were to succeed, it would not benefit the developing nations; it will only benefit China. Japan should not join the AIIB.