On the 5th of December, 2012, Happy Science held an El Cantare Festival, and Master Ryuho Okawa gave a lecture titled "What Is Global Justice?" to the guests of Tokyo International Forum. Happy Science broadcast this event to 3,500 places all around the world via satellite.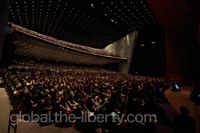 The El Cantare Festival is a ceremony held at the end of the year to give our heartfelt thanks to Lord El Cantare and pledge to establish a utopia on earth based on the teachings of Lord El Cantare who descended to earth in order to save all of mankind.
In this lecture, Master Ryuho Okawa pointed out that the great superpower, America, is now going through a difficult phase. Since America has long been a key decision maker in setting the global standard for Justice, the world's people are now losing their benchmark for fairness.
Regarding North Korea and China, Master Ryuho Okawa strongly criticized their political systems saying that their national interests are not the nations' interests. They should put the protection of their people's well being first.
Master Ryuho Okawa does not wish to prevent China from becoming the world's next superpower, however, China must meet a specific condition: China should give its people the right to know. He noted that the screening of information for the convenience of government operations is a miserable thing to do to 1.3 billion people. Thus, China should give its people basic human rights such as freedom of speech, freedom of the press, freedom of association, and the right to know.
Master Ryuho Okawa stated, "Among all of these human rights, freedom of faith is the most important one since humans are given their life from God. Without freedom of faith, mankind cannot enjoy true peace and prosperity." Master Ryuho Okawa believes the expansion of Atheist countries and their principles goes against the will of God and global justice.
He firmly concluded, "I wish to help direct the course of the world for the sake of future. I will continue to fight until the new standard for global justice is established."
The time has come for all people to become aware of Master Ryuho Okawa words, as they are now becoming guideposts for the formation of a new system of global justice.
Related
Ideas, not Weapons Win the War for Peace in Asia

(Question and Answer Session conducted at the Shoshinkan, Happy Science Tokyo on January 16th, 2011)

We are not going to fight this war with weapons. We are going to fight it with ideas and culture. 

The problem is not that the average Chinese person has no piety. The Chinese as a people are very religious in origin...

In China, a War Between Politics and Economics Will Soon Begin

Recently, anti-Japanese riots have flared up throughout China, and behind these demonstrations, we should note that a part of the cause lies in the widening gap between haves and have-nots.

As the economy is slowing faster than many had expected, there is growing concern regarding job security, the availability of reliable and affordable health care, social safety nets, etc.

Does Xi Jinping's China Have a Future?

While Xi Jinping, soon expected to be the general secretary of the Chinese Communist Party, disappeared for two weeks, the anti-Japanese demos have been spiraling out of control in China, and large scale terrorist attacks targeting the U.S. have broken out the Middle East.