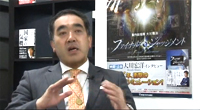 In a video broadcast internationally on 8th June, 2012, Reuters, the world's largest international news agency, showed images from the trailer for the movie "The Final Judgment," as well as an interview with Happy Science Head of PR, Eiichi Satomura, about the movie.
The video, entitled "Japanese movie funded by religious group," showed extracts of the film as a voiceover described how "A new-age religious group is warning of a potential invasion of Japan in a new film," and announcing that "Audiences seem to be keen to buy into the message. The film came in fourth at the Japanese box office this week, grossing more than 1.5 million dollars."
'The Final Judgment' is the latest movie to be executively produced by Master Ryuho Okawa of Happy Science group. It has already attracted a large audience since 2nd June nationwide release in Japan.
The movie's story unfolds in a Japan of the near future, which no longer enjoys freedom of speech and religious faith, following its invasion by a large Asian nation. Depicting the story of what happens when a young man joins together with an underground organization to rise up against the authorities, the movie sets off alarm bells about the country's national defense.
The Reuters video has now become international news, and is currently being shown on 30 American news and entertainment sites, including Reuters.com, Chicago Tribune and The Huffington Post.
With its clear international message, "The Final Judgment" is scheduled to be released around the world in the future.
Those who haven't seen the film yet should take a look at the Reuters video!
"Japanese movie funded by religious group"
http://www.reuters.com/video/2012/06/08/japanese-movie-funded-by-religious-group?videoId=235895127
Smart-phone users can watch the video using the following link:

http://www.youtube.com/watch?v=KqRXMU4ts-8