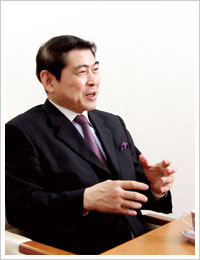 Soji Suzuki,
COO of Hitotsubashi Research Institute
Soji Suzuki was born in 1951 in Shizuoka Prefecture. After graduating from Hitotsubashi University, he worked at Mitsui & Co., City Bank, and Chase Manhattan Bank before he began serving in his current function. Some of his most significant works are "Declaration of War – A Japanese Economy that Can Say No" (co-authored with Shintaro Ishihara, published by Kobunsha), "Together with India, Japan can Be Re-built" (co-authored with Ashok Roy, published by Gentosha) etc.
To ensure Japan's safety, preventing China from becoming too strong is a crucial issue that must be addressed.
With its huge population, China is suffering food and energy shortages and is desperate to maintain its sea lanes. In this way it plans to continue its long term military expansion, and build aircraft carriers.
If China gains control over Taiwan, everything West of the First Island Chain will be under Chinese control. This would seriously endanger Japan's energy situation.
Why Japan, India, and the U.S. should be Partners
The best strategy for Japan would be to cooperate with India. India and China are the two strongest countries in Asia, but Japan has better relations with India.
There are no territorial disputes between Japan and India. In historical terms, Japan helped India become independent. After the Pacific War, Justice Radha Binod Pal supported Japan. Finally, China is a totalitarian state, while India is a democracy.
In terms of economy, Japan excels at the hardware industry, while India excels at the software industry, which makes the two countries good complementary partners.
In India, the average age is 25, which is extremely low and means that at least over the next two decades, the working population in India will be on the increase. In the next 10 years, India will use 1 trillion dollars to improve its infrastructure, and substantial economic growth is expected.
In 2007, the U.S., which is already Japan's ally, concluded the U.S.-India Civil Nuclear Agreement with India, marking the beginning of increasingly friendly relations between these two countries.
So rather than building alliances between Japan, China, and India, or between Japan, China, and the U.S., we should give more serious consideration to an alliance between Japan, India, and the U.S. These three countries share the same values and are not divided by territorial disputes. Their naval forces are already training together.
It would also be beneficial to include Australia and New Zealand in this alliance, which were both formerly associated with Britain.