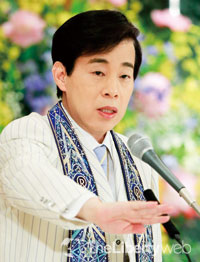 Master Ryuho Okawa was born on July 7th, 1956 in Tokushima Prefecture, Japan. After graduating from the prestigious University of Tokyo, he joined a Tokyo-based international trading company. While working at the company's New York headquarters, he studied finance at the Graduate Centre of the City University of New York.
On March 23rd, 1981, Master Okawa started communicating with the Spirit World and attained Great Enlightenment. He awakened to the fact that he is the re birth of Shakyamuni Buddha and the core conscious ness of El Cantare – the supreme God of the Earth. He established Happy Science in October 1986.
His books number over 1900, and many of them are bestsellers selling millions of copies including The Laws of the Sun and The Happiness Realization Party. In 2014, he broke his own Guinness World Record of the Most Books Published In A Year (formerly 52 books), with 161 books published. He has given over 2300 lectures, and in the media business, he has as made 9 feature films as executive producer, including The Laws of the Universe Part 0 (in cinemas, autumn/fall 2015). In addition, he has established the Happiness Realization Party, Happy Science Academy, HS private school of politics, and Happy Science University (HSU).
The Question:
Q. As a Daikokuten, it has been my aim to support Happy Science through funding. Could you please give some advice on how to expand my business to sustain my financial support.
On 24 May, 2015 at Happy Science Sohonzan Shoshinkan
Master Okawa's Answer:
At Happy Science, our teaching are focused on 'being ambitious', 'being passionate' and of course, 'taking action'. In becoming a Daikokuten, the first thing to do is to lead by example and pull others by example. A company of around 50 employees basically comes down to the leader. Beyond that, however, there arises a need to educate the employees: it becomes important to contemplate how to create your surrogates in the company. There needs to be a team of people where each person can use their strengths in their work, and prevent things from falling apart.
1. A person who does not hesitate to give offerings to a religious organisation to support its activities.
In other words, even if you start off as a one-man system, eventually, there will be a need to think about creating a team of surrogates, and expand the business one more step.
Non-essential Luxury Goods Sell At High Prices
If you're actually trying to ask "how do I increase profit more efficiently?", then there is a different way of thinking about it. It makes me uncomfortable to say this, but in order to increase profit, it's important to realize that nonessential luxury goods sell at higher prices.
In principle, essential goods will get increasingly cheaper, whereas if you can sell goods that are not essential in daily life, they can be sold at much higher prices. Aiming for this may be a good idea, or if not, just knowing that such an approach exists would definitely be beneficial.
Wristwatches that cost over $1000 are said to be 'luxury watches'. Apparently they only sell around 500,000 luxury watches in Japan every year. That is, these watches are items that only 500 thousand people would buy.
Sometimes, however, there are big advertisements of these luxury watches put in newspapers. Since newspaper copies are sold in the millions, most readers have nothing to do with these watches. Then, why would they bother advertising in these papers? They do this so that people will start to recognize luxury watches on other peoples' wrists.
Indeed people who buy luxury watches can recognize them without advertisement: they know things like what new watch appeared in which brand, and what is a one-of-a-kind watch in Japan, and so on.
So even if the advert were promoting a one-of-a-kind watch in Japan, it would be pointless, because only one person would be able to buy it. The only reason why they would advertise such an item is so that people can recognize rare items owned by other people. In other words, the adverts are targeting people who aren't buying the items.
Normally, no one would think of such a strategy. Everyone advertises in order to sell. In reality, however, these adverts serve the purpose of showing the non-buyers what they are missing out on, and for the buyers to boost their ego when others recognize the item. This is an advanced strategy not many people can think of.
Things Sell For Higher Prices When It's Feeling Of Value Increases
If you are thinking of raising the value-added of the product, you must think about selling items that are nonessential, non-urgent, and have very little practical use. You should focus on how to raise its perceived value, even though not many people can buy the product. Products can be sold at higher prices if people buy it despite its nonessential nature. It is worth noting that some companies take this approach.
Generally speaking, it would be great if you set up goals and diligently and passionately work towards it. One can lead a company of around 50 employees on one's own, but once the company gets any bigger, the recommended method is to create a team of your own surrogates, and expands the business into a larger organization.
It, however, you want to raise added value and rake in a lot of money, sometimes there is a need to take the 'back alley' method (audience laughs). Doing things that no other person is doing, or has ever thought of, is indeed an alternate method.
The "Brand" Method: What My Difficult Lectures Denote
To give an example: usually religious teachings need to be made simple for it to spread, but oftentimes I bring up difficult ideas in my lectures, which are broadcast all over the country. Today's lecture is being broadcast to all of the temples in Japan, but most people would not be able to understand the topic just covered. I am aware of this.
Once, I asked one of the stagehands and there was only one person who could fully understand my words, and that was a law graduate from Waseda University. If this stagehand couldn't understand it, then probably most of the audience couldn't understand it either.
Doing these things once in a while, however, raises the brand quality of Happy Science. Some people will go home thinking, "I've been studying for 20 years, but I didn't understand todays lecture", or "I could only understand half." When I do these kinds of lectures sometimes, people will start to think that Happy Science is a group of very high-level people.
If there are people who claim that religion is for the weak, show them one of the harder lectures, because even scholars of constitutional law will have trouble following. If you were to bring one such person along, you can tell them, "Happy Science is a religious organization that where even a university lecturer can't understand all of its teachings; so you should join and learn with us!"
2 The lecture before the question and answers session transcribed here, entitled "The Principles of Justice". The main theme covered was 'what is justice in relation to international politics and philosophy'
I give difficult lectures knowing that there will be people who cannot understand them. In many cases, I choose to speak about difficult things in order to generate groups of people who don't understand, to promote that Happy Science is a place where very intelligent people who like difficult lectures gather.
This is reasonable seeing as over 90% of my lectures are understandable. It's just that there are times when one can give difficult lectures for strategic reasons.
To sum up, there is indeed a way to raise the value of your products by making people think, "it's not an essential item, but for some unknown reason, there's something special about it" There are times when people succeed by coming up with a strategy through thinking differently with other people.
Recommended reading:
Books by Ryuho Okawa (IRH Press)
Introduction To Practical Marketing Theory
Sales Skills For Women