It has been one year since the Great East Japan Earthquake. The recovery efforts in the devastated regions are still continuing, but this does not mean that Japan as a whole has been greatly impacted. Rather, the earthquake was also like a spring creating the momentum to build a new future society strong in the face of natural disasters.
When we look back at the situation immediately after the earthquake on the occasion of the first anniversary, while there is grief over the many lives sacrificed, there are memories of the Japanese people's enthusiasm to bounce back. There is the dedicated work that was demonstrated by the U.S. military in Japan, as an ally, in assisting the victims and the recovery efforts in the affected regions. This was not only for political or military reasons, but merely selfless acts filled with sympathy and friendship where, as humans, the troops could not ignore the suffering of others and this is etched in the hearts of many Japanese.
The HRP thanked the U.S. forces in Sapporo in February
According to the Hokkaido headquarters of the Happiness Realization Party (HRP), about 25 party members attended the 63rd Annual Sapporo Snow and Ice Festival on February 6. About 20 members of the U.S. 7th Fleet Band performed at this festival, which is famous throughout Japan, to liven it up. The HRP members raised a banner with the words "OPERATION TOMODACHI Thank you USA" and the American flag for the band in a display of gratitude to the U.S. troops for their assistance in the Great East Japan Earthquake.
After the performance John C. Taylor, Public Affairs Officer of U.S. Consulate General Sapporo was interviewed on stage by a female reporter. Asked if he had anything he would like to say in closing, in front of an audience of approximately 300, he said loudly in Japanese, "Tomodachi, Kofuku-Jitsugen-to, Arigato!" ("Thank you, my friends, the Happiness Realization Party!")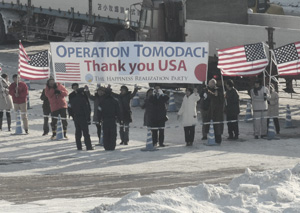 U.S. Pacific Fleet's photostream
Attribution-NonCommercial 2.0 Generic (CC BY-NC 2.0)
The party, formed in 2009, believes that Japan should prepare to exercise its own defense capability with the Japan-U.S. alliance being extremely important in the meantime. Since the earthquake, the party has placed opinion advertisements in Japanese and American newspapers expressing their gratitude to Operation Tomodachi, repeatedly emphasizing their appreciation for the assistance of the U.S. troops and the importance of the Japan-U.S. alliance. Three days prior to the festival, 17 party members also raised a banner and the American flag welcoming the 7th Fleet command ship, the USS Blue Ridge, when it called at Tomakomai Port. This act was also mentioned on the U.S. Navy website and the Navy Facebook page.
The U.S. Navy website: http://www.navy.mil/search/display.asp?story_id=65148
flickr: http://www.flickr.com/photos/compacflt/6810596457/in/photostream
Vice-president of the HRP Hokkaido headquarters, Yasumasa Tsukiyama, said, "the assistance of the U.S. troops after the earthquake was very important not only for rebuilding Japan, but also from a national defense perspective. The Japanese people must never forget their gratitude towards the U.S. troops."