A Historically Unprecedented Spiritual Leader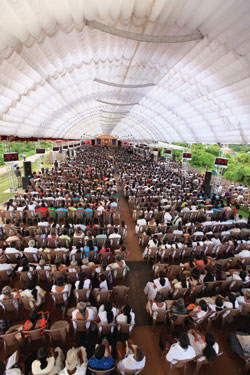 One of the Buddhist monks who witnessed Master Okawa's sermon in Sri Lanka that day said: "Master Okawa is the only one who can teach the world. He taught us what it really means to live as a human being in the modern age." One of the TV crews who recorded Master Okawa's sermon said: "We have broadcast many Buddhist lectures before, but today's sermon was the best I've ever witnessed. What I heard really touched me. I've never felt this way before." 70% of those who attended the event became new Happy Science followers, and in one day 10,000 new followers were born. Happy Science is not only true Buddhism, its teachings surpass those of Buddhism.
The recording of this sermon can be viewed by anybody at Happy Science offices/temples in Japan and worldwide. The same is true for all sermons Master Okawa gave in English in 2011, speaking to audiences in India, Nepal, the Philippines, Hong Kong, Singapore, and Malaysia.
Is there any other religious leader in the world today who preaches the truth to the citizens of so many countries, gathering new followers by the thousands every time he speaks? Here is a new savior who is preaching the truth right now during your life time. Please open your heart and mind and hear the Word of Master.

---
To contact Happy Science in your country, please click:
http://www.happy-science.org/en/contact-us
---