Master Okawa's profile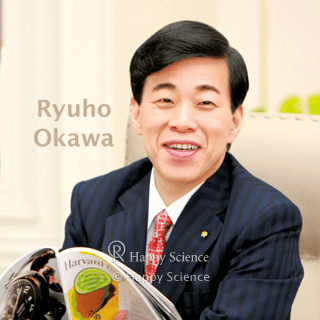 Master Ryuho Okawa was born on July 7th, 1956 in Tokushima Prefecture, Japan. After graduating from The University of Tokyo, a prestigious university, he joined an international trading company based in Tokyo. While he worked at the company's New York headquarter, he studied international finance at the Graduate Center of the City University of New York.
On March 23rd, 1981, Master Okawa attained Great Enlightenment and awakened to the hidden part of his consciousness, El Cantare, whose mission is to bring true happiness to all humanity.
In July 1986, Master Okawa renounced a promising career as a businessman. He decided to devote his life to spreading the Truth, and established Happy Science (Kofuku-no-Kagaku in Japanese), which was registered as a religious organization in 1991 in Japan.
On November 18th, 2007, Master Ryuho Okawa gave his first official oversea lecture in Hawaii, entitled "Be Positive." This marked the beginning of Master Okawa's world missionary tour, and he has given lectures in English in all of the five continents.
Since then, Master Okawa has been lecturing around the world as a World Teacher.
His teachings based on universal religious Truths expand to cover concrete proposals for resolving worldwide political and economic situations, and he has given over 2,800 lectures in both Japanese and English.
Happy Science now has members in over 100 countries across the world, with more than 700 local branches and temples as well as 10,000 missionary houses around the world. The total number of lectures has exceeded 2,900 (of more than 130 are in English) and over 2,500 books (of more than 500 are Spiritual Interview Series) have been published, many of which are translated into 31 languages. Many of the books, including The Laws of the Sun have become best seller or million seller.Up to date, Happy Science has produced 18 movies. These projects were all planned by the executive producer, Ryuho Okawa.
Happy Science activities mainly take place at the local branches, local temples and the Shojas, on the content of education, politics, and making further publications to bring improvements to society.
He has also laid the foundation for ideal politics and education by establishing the Happiness Realization Party in 2009, and the Happy Science Academy – the Nasu Main Campus in 2010 and the Kansai Campus in 2013.
Additionally, he is also the founder of Happy Science University (HSU), which opened as an unaccredited institution of higher education in April 2015.
Happy Science currently has more than 10,000 local branches and temples and the Shojas around the world, and we are actively involved in charity works. For instance, the HS Nelson Mandela Fund is established to support people who cannot receive education due to poverty or racial and caste discrimination, people who are oppressed by their government and people who cannot receive medical treatment.