Although talk of politics is all around us, such as in the newspapers, many people will indubitably find the idea of "political science" foreign. Master Okawa conducted a talk on Japan's political values with his 3rd son, Yuta Okawa, the Assistant-Director, Chief of the CEO's Office, and Staff of State Affair Activities from the Headquarters of Happy Science. Yuta is currently studying law at the University of Tokyo.
Point 1: Political Science Is Something that Explains the 'Legitimacy of Authority'
Former-Prime Minister Naoto Kan was the epitome of contemporary political science put into practice. At the time, he explained in his policy-speech that his impetus sprang from the idea of "citizen inclusive politics" expressed in Keiichi Matsushita's book, a political scientist from the University of Tokyo. Observing his handling of the nuclear energy issue, however, he lackedpolitical judgement, which is essential to governing.
Former-Prime Minister Yukio Hatoyama also advocated the "citizen inclusive" idea, placing importance on the 'sovereignty of districts'. He caused a fissure in the U.S.-Japan Alliance when, in order to appease the citizens of Okinawa, he chose a location outside of the prefecture as the destination for the transfer of the Futenma military base. In this way, his "citizen inclusive" political strategy focused too much on the distribution of authority, and proved disadvantageous for foreign affairs, and did not help in forming a sound judgment, which is essential when looking at the bigger picture.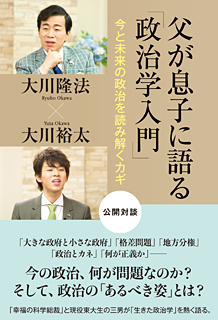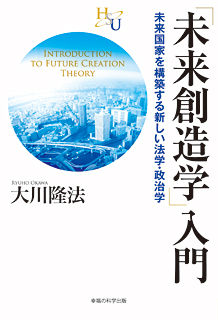 Recommended Further Reading
Introduction to Future Creation Theory: A New Political Science To Construct for the Future of the Nation, Ryuho Okawa, IRH Press
Point 2: Gathering Spite Is Not Political Justice
In contemporary political science, many illustrations promote the ideas of correcting disparities and redistributing wealth as just. Wealth, however, is just reward for effort and contributions to society. Master Okawa warned of overstepping the boundaries of equality, explaining that 'a world where 'gathering envy is justice' has the danger of becoming demonic.
Point 3: Religion Is Needed To Prevent Mob Rule
Assistant-director Yuta posited that a political science, which omits the study of God's will, is policy making using the money of Nagatachou (the political inner circle) a politics that only think of oneself-. He explained that religious values are needed to overcome excessive plutocracy and mob rule, which have arisen out of a corrupt media.
Their talk went into a discussion of other topics such as the Lockheed bribery scandals, approaches to political funding, the true reason behind the bursting of the economic bubble, and expectations for the next generation.